Posted on
March 6th, 2017
3/6/17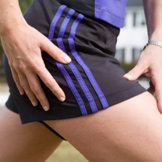 A specialty of orthopedics, hip preservation uses the least invasive techniques to decrease pain and disability without implanting joint replacements. There are many aspects of the anatomy of the hip, which can cause inconvenient symptoms for active lifestyles. This may be overcome by therapy, changes in lifestyle, injections, and potentially, surgery.
Hip Impingement
Hip impingement is one of the major causes of hip pain in active individuals. There are two major categories of hip impingement: cam (or bump) and pincer (pincher) lesions of the hip. The goal of hip preservation is to diminish these lesions to improve mechanics of the hip back to normal. In changing the anatomy, symptoms typically reduce, lowering the risk of arthritis.
Hip Arthroscopy
Using small incisions via hip arthroscopy can typically take care of these changes in the hip, helping minimize pain and recovery. Pincer and cam changes can be diminished. Hip arthroscopy is normally a day surgery.
Other changes of the hip that can be improved at the time of arthroscopy are lesions of the cartilage, tears in the labrum or ligaments, snapping or torn tendons, and loose bodies. Lesions of the cartilage (lining of the hip joint) can often be treated through excision (cleaning of the edges of the tear), but sometimes need micro-fracture, or drilling of the bone to create scar cartilage.
For more information on hip preservation, see an expert at Midwest Orthopedic Specialty Hospital.