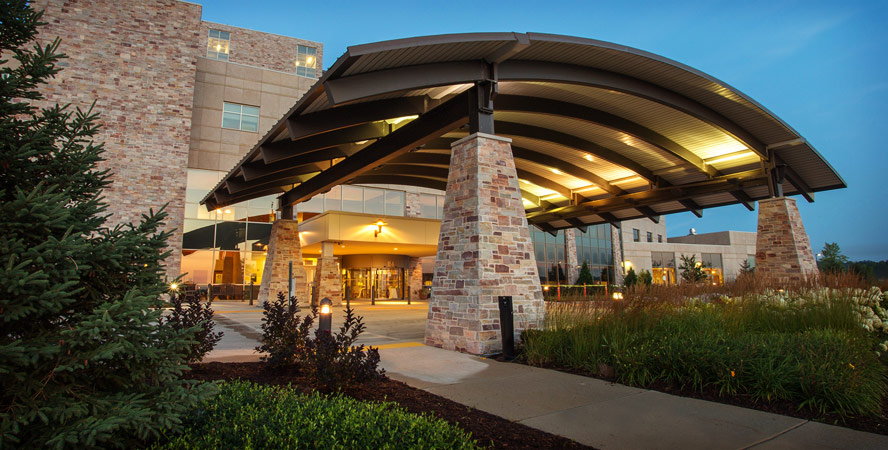 Midwest Orthopedic Specialty Hospital
The Healing Begins the Moment You Walk Through Our Doors
Welcome to Midwest Orthopedic Specialty Hospital, the premier destination for orthopedic care. Founded by physician owners and Ascension Wisconsin, we have but one goal in mind: To create the best patient experience possible. It's not just a mission statement – it's our employee pledge. With each physician's written endorsement, we are uniquely committed to our patients' health, comfort and individual orthopedic care.
Patients are at the center of everything we do. Collectively, we realize that their positive experience – both clinically and personally – is the result of every interaction they have with each person in our hospital. And that's why we strive to treat patients as members of our own family by being responsive, respectful, approachable and communicative.
About Our Facility

Located on the second floor of Wheaton Franciscan Healthcare – Franklin, Midwest Orthopedic Specialty Hospital is a remarkable place where natural lighting, calming colors and comfortable spaces all contribute to the healing process. Where a tranquil environment sets the stage for individualized attention, diagnosis, procedure and recovery.

Amenities

Whether you're a patient, family or friend visiting Midwest Orthopedic Specialty Hospital, it's important to us that you receive quality care and have a pleasant, comfortable experience.

Amenities

We are pleased to offer the following amenities to our patients and visitors:

Private Patient Rooms – However long or short your stay, you'll find that our private patient rooms—equipped with a private bathroom and shower, telephone, TV and wireless Internet—create a soothing, healing environment.
Room Service – You can call nutrition services right from your private room to have a meal delivered. Guest trays are available upon request.
Newspaper – You may request a FREE Milwaukee Journal Sentinel when ordering breakfast through room service.
Valet Parking – Simply drive up to our main entrance on South 27th Street, and our professional valet drivers will safely park your car and pick it up as you leave. Valet parking is available Monday through Friday, excluding holidays.
Mail & Flower Arrangement Deliveries – Have your mail and flower arrangements delivered right to your room. Mail received after your discharge will be forwarded to your home address.
Care Management Services & Advance Directives – Nurse case managers and social workers are available to help you and your family deal with ongoing health care needs as well as social, emotional, financial and other issues related to your medical conditions and procedures. They will also help you complete an Advance Directive.
Pharmacy – A full-service, outpatient pharmacy is located just inside the main entrance and is open Monday through Friday from 9 am – 5:30 pm.
Café – Our Café offers a variety of healthy menu items and is open Monday through Friday from 7 am to 6 pm. Our "grab and go" cooler is available Saturday and Sunday from 11 am – 6 pm.
Gift Shop – The gift shop at Franklin offers a variety of beautiful items and is open Monday through Friday from 8:30 am to 5 pm.
Prayer Room – All visitors are welcome to stop in the quiet and comforting Prayer Room at Franklin to pause for a moment of stillness, reflection or prayer.
Chaplains – Wheaton chaplains are available 24/7 for your spiritual needs.
Lounges – We have a specifically-designed lounge area on the second floor and in the main lobby. Specific waiting areas have been designated for families of patients in ICU and surgery.

Access for Individuals with Disabilities

Midwest Orthopedics Specialty Hospital facilities are accessible to and useable by individuals with disabilities.

Access features to our acute-care and specialty hospitals, outpatient centers and physician clinics include:

Convenient parking designated specifically for disabled persons.
Curb cuts and ramps between parking areas and buildings.
Level access into all levels of facilities with elevator access to all floors.
Fully accessible offices, meeting rooms, bathrooms, public waiting areas, cafeterias, patient treatment areas, including examining rooms and patient rooms.
Specialized equipment, chairs and wheelchairs to accommodate individuals above or below average body size.
Wheelchairs available for use at main, emergency and admitting entrances of our hospitals.
At our acute-care and specialty hospitals, a full range of assistive and communication aids are provided to individuals with disabilities or sensory impairments. There is no additional charge for such aids. Some of these aids include:

Qualified sign language interpreters for persons who are deaf or hard of hearing.
A twenty-four hour (24) telecommunication device (TTY/TDD) which can connect the caller to all extensions within the facility and/or portable (TTY/TDD) units.
Readers, taped material and large print materials for the visually impaired.
Flash cards, alphabet boards and other communication boards.
Assistive devices for persons with impaired manual skills.

If you require any of the aids listed above, please let the receptionist or your nurse know.

Please check with staff about availability of assistive and communication aids at our outpatient centers and physician clinics so we may ensure your visit with us is a positive one.

Maps & Directions

Wheaton Franciscan Healthcare – Franklin
10101 S. 27th Street, 2nd Floor
Franklin, WI 53132
Phone: 414-817-5800
Fax: 414-817-5801

Directions

From the North

Merge onto I-43 S
Take I-94 E/US-41 S toward Chicago/Airport
Take the Ryan Road/WI-100 exit, exit 322
Take the Ryan Road West ramp
Merge onto W. Ryan Road/WI-100 W
Turn left onto WI-241 S/S. 27TH St.
Continue south until you reach the hospital

From the South

Merge onto I-94 W/US-41 N toward Milwaukee
Take the 27th Street exit
Go north on 27th Street
Main entrance to the hospital is off 27th Street

From the West

Merge onto I-94 E toward Milwaukee
Merge onto I-894 E via exit 305A toward Chicago
Merge onto I-94 E/US-41 S via exit 10B toward Chicago
Take the Ryan Road/WI-100 exit, exit 322
Take the Ryan Road West ramp
Merge onto W. Ryan Road/WI-100 W
Turn left onto WI-241 S/S. 27th Street

What's Nearby

Midwest Orthopedic Specialty Hospital is on the border of Franklin and Oak Creek, surrounded by 55 acres of land. The hospital is just minutes from the interstate, airport and shopping. 27th Street is also a business district that is home to many restaurants, stores and hotels.

Preparing For Your visit

We understand that preparing for a procedure may cause a few nervous moments, especially if you haven't undergone surgery before. We hope to help relieve some of your natural concerns and meet the needs of you and your family as you prepare for your visit.

Pre-Operation Preparation

Have your doctor explain exactly what the surgical process is and why surgery is necessary.
Be sure you understand all the risks and benefits of your surgery, as well as potential risks if you choose not to have the procedure done.
Assess your work and family schedule, to determine what is the best time to schedule surgery.
Bring someone with you to pre-surgical appointments to take notes. Write down your questions ahead of time to discuss with your physician.
Discuss with your physician expected recovery time; include your family and friends in your recovery plan.
Make arrangements for a ride to and from the hospital, since any surgery requiring anesthesia will render you unable to drive yourself home.
Line up a few helpers during your first days after surgery. You may need help running errands, picking up prescriptions and driving to follow-up appointments.
Choose one trusted person to help you make medical decisions. Listening to a committee of family and friends is likely to be stressful and confusing.
Know your rehab and physical therapy plan ahead of time. Commit to following it.

If you're having foot or ankle surgery, please see our special Preparation for Foot or Ankle Surgery instructions.

Arrival – Plan to arrive as directed by Pre-Admission Testing, generally 60-90 minutes prior to surgery start time. Professional valet drivers are available to safely park your car. Bring anticipated co-pay with you and a small amount of cash for equipment, prescriptions or possible van service. There may be some waiting time before the procedure, so it's a good idea to bring a book or magazine to read.
Stay Informed & Communicate with Your Medical Team – Attend all scheduled pre-surgical appointments and be available to provide medical information. A nurse or anesthesiologist may call to discuss your care in the time leading up to surgery.
Do Not Eat or Drink – It is generally recommended to not eat or drink anything after midnight the night before surgery, including water, candy or gum. If the stomach is not empty, anesthesia can cause nausea and vomiting. If the surgery involves the abdomen, there will also be a need to have an empty bowel. Your doctor will provide specific instructions for your preoperative diet – pay close attention to these instructions.
Pack Light – Packing a bag of toiletries and some loose comfortable clothes is a good start. You may also want to bring crutches, a walker, inhalers and a CPAP machine, if applicable. If you are staying overnight, we encourage you to bring comfort items to assist in the healing process, such as DVDs, mp3 player or laptop.
Bring Hospital Documents & Current Medications – Bring any documents your doctor has given you, a picture ID and your insurance card, a list of your current medications such as vitamins or supplements.
What to Expect Prior to Surgery – Prior to surgery your blood pressure, pulse, respiratory rate and temperature will be checked. Your family will be allowed to stay with you in your room until you are transported to the operating room.

Post-Operation Preparation

Assessing Patient Needs & Vital Signs – Upon recovery you may find yourself wearing a blood pressure cuff, oximeter and EKG leads. IVs may remain in place to deliver medication and fluids intravenously.
Pain Management – You are encouraged to notify the nurse immediately if pain is not sufficiently relieved; it is easier to control pain when it is mild than when it is severe. You may not experience total pain relief but should have a pain rating that you consider acceptable and allows you rest, deep breathe and do your therapy. Surgical pain lessens each day as your incision begins to heal.
Thirst & Nourishment – Some patients may only be allowed ice chips, sips of water or clear liquids the first day or two. During this time nutritional needs are met through IV fluids. Patients then progress toward a regular well-balanced diet. Room service is available, and a menu for dining is available in your room.
Circulation & Ambulation – Changing position in bed, walking and prescribed exercise promotes circulation. Good blood flow discourages the formation of blood clots and enhances healing. Each day the patient is encouraged to increase physical activity and to be as independent as possible.
Surgical Incisions – You should expect pain in the area of the incision. If there is any unusual pain, swelling, fever, redness, discharge, numbness or flu-like symptoms, you will need to report this immediately.
Physical Therapy & Rehabilitation – You may begin physical therapy and rehabilitation as early as the day of surgery. This is an important part of recovery because it helps you build strength, flexibility and endurance. You may also be given a home exercise program to continue your progress.
Hospital Discharge – Prior to discharge, you will be given orthopedic post-operation instructions and necessary prescriptions or medications. A retail pharmacy is located on the first floor for your convenience, and the instructions provide reminders for aspects of home care. You can expect to be tired in the first days following surgery. So, it's important to plan rest periods in your day during recovery. If required, plan to schedule your follow-up appointment shortly after arriving home.

Preparing a Child for Surgery

Having an elective procedure gives you time to prepare your child psychologically for the hospital and the surgery. Good preparation can help him or her feel less anxious about the anesthesia and surgery and get through the recovery period faster. Here are ways you can help prepare your child:

Provide information at your child's level of understanding, correct misunderstandings and dispel any fears.
Allow your child to share his or her fears and let them know it's okay to feel afraid.
Help your child understand why the surgery is needed and become familiar with the hospital and the procedures he or she will undergo.
Compare the time your child will be in surgery to the length of a favorite cartoon or video.
Explain that you'll be there when your child wakes up — and a favorite toy can come along, too.
Tell your child that if anything feels sore right after the operation, a doctor or nurse can give medication that will make it feel better.
Encourage your child's questions about the health problem and hospital experience, so that other fears and anxieties can be expressed.
Take all questions seriously and answer them to the best of your ability.
If you don't know an answer, tell your child that you'll find it out, and explain that the doctors and nurses are happy to answer questions, too.
Remember, your tone of voice, facial expressions, gestures and body language send powerful messages.
If you appear fearful, your child is likely to feel fearful regardless of the words you use.
Schedule a pre-operative tour, program or orientation as soon as the appointment for the surgery is made.
Children who are less anxious and fearful about a procedure have an easier time before and after surgery.

Patient Rights & Responsibilities

As a patient at Midwest Orthopedic Specialty Hospital, you have the right, consistent with laws and regulations, to…

Not be denied the right to appropriate hospital care because of your race, creed, color, national origin, ancestry, religion, sex, sexual orientation, marital status, age, newborn status, handicap, ethnicity, culture, language, physical or mental disability, socio economic status, gender identy or expression or source of payment.
Know that the Midwest Orthopedic Specialty Hospital is owned jointly by physicians and Wheaton Franciscan Healthcare. A list of physician owners is available upon request.
Have a family member or representative of your choice and your physician promptly notified of your admission to this facility.
Participate in the development, implementation, and revision of your plan of care, treatment and services, and the involvement of your family, with your permission.
Make informed decisions and provide consent about your care, treatment and services, unless you are unable to do so. Except in emergencies, your consent or the consent of your legally authorized representative shall be obtained before treatment is administered.
Receive, from an appropriate person within the facility, a clear explanation of:
a. All proposed treatment, care, services, medications, interventions, or procedures;
b. Potential benefits, risks, or side effects;
c. Any problems related to recovery;
d. Any significant alternative treatment, care or services;
e. Your condition, any changes in your condition and your prognosis for recovery;
f. Outcomes of your care.
Refuse any care, treatment, or services and the right to be informed of the possible consequences.
Participate in resolving dilemmas about care, treatment, services, or discharge, including withholding resuscitative services and declining or removing lifesustaining treatment.
Identify someone to make decisions for you if / when you can not make decisions about your care, treatment, or services, as permitted by law.
Designate person(s) who are permitted to visit you during your hospital stay, including, but not limited to, your spouse, domestic partner (including a same sex domestic partner), another family member or a friend. You have the right to receive or refuse a visitor. You will be informed of any clinically necessary or reasonable visitation restrictions that we may need to put in place. We will not restrict, limit, or otherwise deny visitation privileges on the basis of race, color, national origin, religion, sex, gender identity, sexual orientation, or disability.
Prepare and/or revise advance directives or instructions about your medical treatment, to appoint a decision maker, and to have staff comply with these directives, as permitted by law.
Effective communication, including:
a. Interpreter and translation services;
b. Assistance to meet vision, speech, hearing, language, and cognitive impairment needs;
c. Age-appropriate information;
d. Visitors, mail, telephone calls, and other forms of communication;
e. Restrictions on communication that are evaluated for therapeutic effectiveness and determined with the participation of the patient and family, as appropriate.
Receive considerate and respectful care, consistent with sound medical and nursing practice, in a clean, safe, and secure environment.
Be free from restraints of any form that are not medically necessary or are used as a means of coercion, discipline, convenience, or retaliation by staff. A restraint can only be used if needed to improve your (the patient's) well-being and less restrictive interventions have been determined to be ineffective.
Be treated with consideration and respect in recognition of your individuality and dignity, including reasonable visual and auditory privacy during personal hygiene activities and consultations, examinations, and treatments.
Privacy and confidentiality of your health information. As required by law, you also have a right to:
a. See and receive a copy of health information about yourself;
b. Request to amend your health information;
c. Request a list of disclosures of your health information;
d. Request limits on how Midwest Orthopedic Specialty Hospital uses and disclosures of health information;
e. Ask that Midwest Orthopedic Specialty Hospital send information to you at a different address or in a different way;
f. Receive a copy of the Notice of Privacy Practices that includes further explanations of these rights.
Be assured of reasonable safety within the hospital, including the right to be free from mental, physical, sexual, and verbal abuse, neglect, mistreatment, exploitation, humiliation, and retaliation.
Access or referral to appropriate services such as:
a. Self-help groups and economic, legal, disability, or other advocacy organizations.
b. Protective services such as guardianship.
c. State licensing and certification agencies, and governmental fraud and abuse units.
Effective management of your pain.
Access to pastoral/spiritual care services.
Know the name of the physician or other practitioner primarily responsible for your care and the name and professional status of those responsible for authorizing and performing procedures and treatments.
Except in emergencies, participate or refuse to participate in research and/or clinical trials after receiving an explanation of the nature and possible consequences of the research before the research/clinical trial is conducted, without compromising your access to care, treatment, or services.
Remain in this facility for care without being transferred to another facility unless you have received an explanation of the need for a transfer, provisions have been made for your continuing care, and the receiving institution has accepted you as a patient.
Information about the cost of your care including the right to look at and receive a reasonable explanation of your total bill and detailed charges for services received, regardless of the source of payment. You also have a right to request and receive information about financial assistance available through the hospital.
Be informed in writing about hospital policies and procedures for initiation, review, and resolution of patient complaints. You may voice a complaint to caregivers without fear of reprisal if dissatisfied with any aspect of their care. This would include issues related to quality of care, patient safety, coverage decisions, and premature discharge concerns.

Complaints

If your complaint cannot be resolved promptly, you may call the Patient Advocate hotline at 414-817-5755.

You also have the right to file a complaint with:

State of Wisconsin Department of Health and Family Services
Division of Quality Assurance
PO Box 2969
Madison, WI 53701-2969
Phone: 608-266-8481
The Joint Commission on Accreditation of Healthcare Organization
One Renaissance Boulevard
Oakbrook Terrace, IL 60181
Phone: 1-800-994-6610
Website: www.jointcommission.org
E-mail: complaint@jointcommission.org

If you have Medicare, you also have the right to file a complaint with Medicare by calling (800) MEDICARE (800-633-4227) or the state Quality Improvement Organization.

Any person (resident, employee, ombudsman, relative, friend, other) may file a complaint regarding a facility staff person, a regulated healthcare facility, a clinical lab or other DQA related issue via the DQA Complaint web page.

For further information about Wheaton's accessibility policy, our 504 coordinator or our 504 grievance process, please view the Patient & Visitor Amenities tab on this page.

Should you need assistance in obtaining this information, please contact our patient advocate.

Download a copy of the Patient Rights and Responsibilites.

Patient Responsibilities

As a patient at Midwest orthopedic Specialty Hospital, you have the responsibility to:

Provide, to the best of your ability, accurate and complete information about your present complaints, past illnesses, hospitalizations, medications, perceived risks in your care, unexpected changes in your condition and other matters related to your health.
Ask questions when you do not understand your care, treatment, or services provided to you, or what you are expected to do.
Follow the care, treatment or service plan developed and express any concerns about your ability to follow the proposed care plan, treatment or service to care providers.
Accept the consequences if you do not follow your care, treatment or service plan.
Follow Midwest Orthopedic Specialty Hospital's rules and regulations affecting your care and conduct, including visitation and smoking policies and assisting our efforts to limit noise.
Be considerate of staff, other patients and their property.
Promptly meet financial obligations.
Provide a copy of your Advance Directive (i.e., "Living Will" or Power of Attorney for Health Care) if you have completed one.
Safeguard your personal belongings and to secure any valuables in the safe managed by security, as needed to prevent loss.
Keep scheduled appointments and notify the appropriate department and/or professional when unable to keep an appointment.

Sources

Joint Commission on Accreditation of Healthcare Organizations' Hospital Manual
Medicare Conditions of Participation
Office of Civil Rights Limited English Proficiency Policy Guidance
HIPAA Standards for Privacy of Individually Identifiable Health Information (45CFR Parts 160 and 164. [HHS])
HFS 124.05 (3) and other relevant state statutes and administrative codes

Notice of Privacy Practices

We are committed to protecting the privacy and confidentiality of patients' protected health information and have practices in place to respect a patients' right to privacy.

In response to the Health Insurance Portability and Accountability Act of 1996 (HIPAA), we are pleased to provide our patients with a Notice of Privacy Practices as they enter our facilities for health care services. You can view the documents below in Adobe Acrobat PDF format:

In the Community

Our Mission, Vision & Values

At Midwest Orthopedic Specialty Hospital (MOSH) and Ascension, our Mission, Vision and Values guide everything we do. They are the foundation of our work to transform healthcare and express our priorities when providing care and services, particularly to those most in need.

Beyond working to fulfill our Mission on a daily basis, our Values compel us to share our talents and resources in an even greater way to benefit the communities we serve. We live out our Mission by providing programs and services throughout the community to address needs that have been identified surrounding our facilities.

Charitable Activities, Events & Sponsorship

MOSH accepts requests from organizations for support of various charitable activities, events and sponsorship. A team meets monthly to review all requests and determine which best fit our focus of encouraging individuals to improve their overall health and wellness.

To submit a request, please complete our online request form.

Community Health Needs Assessments & Reports

Every three years, Ascension hospitals perform community health needs assessments to evaluate the overall health status of the communities we serve. The information from these assessments is routinely used to guide the strategic planning processes of our organization. In collaboration with our local community health partners, we are pleased to present the following Community Health Needs Assessment reports.

The Community Health Needs Reports and Community Health Needs Implementation Plans provided below are also available for print upon request.

2019 Assessment Results

2015 Assessment Results

For comments or questions about this report, please contact us.
The MOSH Pledge to Our Patients
Patients are at the center of everything we do. Collectively, we realize that their positive experience – both clinically and personally – is the result of every interaction they have with each of us. And that's why we strive to treat patients as members of our own family by being responsive, respectful, approachable, and communicative.