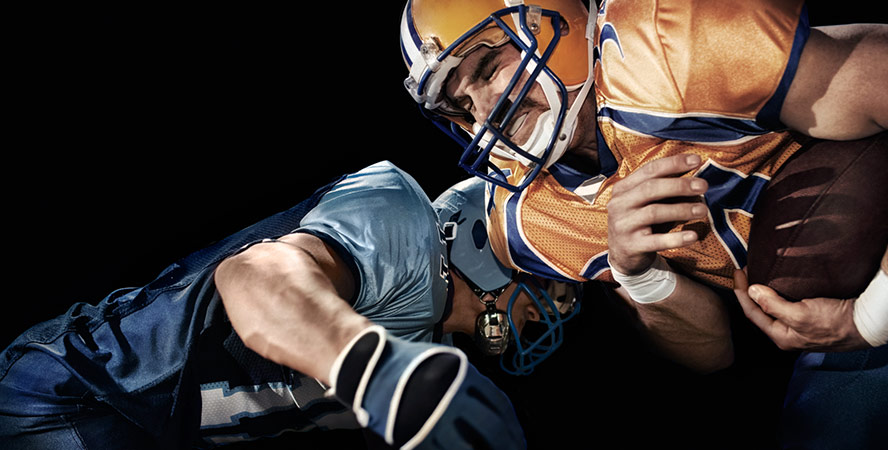 Concussion Care Network
Through our Concussion Care Network, medical specialists from Midwest Orthopedic Specialty Hospital and Ascension can treat head injuries and concussions in both children and adults. State law requires any child in an organized athletic program suspected of a concussion to be removed from play. To return to play, the child must be evaluated and cleared by a medical professional. We provide baseline testing, concussion screening, follow up care and guidance.
It's important that a trained health care professional determine the severity of the concussion and when it is safe to return to sports. Our team of physicians, physician assistants and certified athletic trainers has extensive training in concussion management and will manage concussion in the best, most comprehensive way possible.
By using a variety of clinical tools to assess the severity and progress of each injury, individualized recommendations are made for each patient's treatment and return to activity.
How to Make an Appointment
Request an appointment for a concussion screening or treatment online. Or, you may also select a physician from the Concussion Physicians listing below and contact the office directly. Patients are seen at individual physician offices.
Concussion Signs & Symptoms

There are many signs or symptoms that a person may be concussed. Some of these symptoms may appear immediately while others may take time to emerge. Additionally, how long a symptom lasts depends largely on the individual.

The following are signs and symptoms of concussions. If you or someone you know is experiencing these symptoms after a direct or indirect blow to the head, contact a concussion physician.

Headache or pressure in head
Loss of consciousness
Dazed, stunned or confused
Fatigue or drowsiness
Nausea or vomiting
Dizziness or balance problems
Double or blurry vision
Sensitivity to light or noise
Problems remembering, concentrating or focusing
Changes in personality or behavior

Concussion Services

The Concussion Care Network offers:

SportGait testing
Symptom score
Balance testing
Vestibular screening
Neurocognitive testing
Vision screening
Neurological exam

Most concussions resolve in a reasonable amount of time. Should you or your child's injury persist, we will draw on the expertise of our team, consisting of primary care, neurology, neuropsychology, sports medicine and vestibular therapy.

Midwest Orthopedic Specialty Hospital concussion specialists recommend that all athletes, especially those involved in contact sports, complete a computerized neurocognitive test using the SportGait system before their sports season starts to establish a baseline.

The baseline can then be compared to a post-concussion test should the athlete suffer a head injury during their season. Comparing the baseline and post-concussion scores allow schools, teams and healthcare providers to determine the athlete's ability to return to school and athletic participation.

Baseline Testing

Baseline testing is recommended for athletes above age 10 and participating in contact sports.

In the event of a concussion, the brain needs rest from sports and school in order to heal. It is never safe to return to play if an athlete is experiencing any symptoms of a concussion.

Even if an athlete has not received a baseline test, he or she can still take the SportGait test post-concussion due to its ability to assess severity of concussion and determine when it's safe for them to return to play. Learn more about the SportGait test.

SportGait concussion testing

Midwest Orthopedic Specialty Hospital utilizes the SportGait system, which employs computerized neurocognitive assessment tools to assist in determining an athlete's ability to return to play after suffering a concussion. The SportGait concussion testing system is the most widely used, computer-based testing program in the world and is implemented across high school, collegiate and professional level sports, including the NFL.

The SportGait program measures multiple aspects of cognitive functioning in athletes, including:

Attention span
Working memory
Sustained and selective attention time
Response variability
Non-verbal problem solving
Reaction time
Balance testing – Gait pattern

SportGait test features:

Measures player symptoms
Measures verbal and visual memory, processing speed and reaction time
Reaction time measured to a 1/100th of second
Assists clinicians and athletic trainers in making difficult return-to-play decisions
Provides reliable baseline test information
Produces a comprehensive report of test results
Results are presented as a PDF file and can be emailed
Automatically stores data from repeat testing
Testing is administered online for individuals or groups
Baseline testing
Impact testing

Even if an athlete has not received a baseline test, he or she can still take the SportGait test post-concussion due to its ability to assess severity of concussion and determine when it's safe for them to return to play.

Concussion Physicians

The following physicians are members of the Concussion Care Network and are specially trained to treat children and adults in need of medical care and screening following a head injury.

To make an appointment, request one online. Or select a physician from the list below and call their offices directly – patients are seen at their office locations.

Milwaukee County

Erin O'Tool, MD
Family Medicine
Oak Creek
Phone: 414-647-3920

Jamie Edwards, MD
Orthopedics/Sports Medicine
Franklin & Wauwatosa
Phone: 414-384-6700

Racine County

Goran Jankovic, MD
Orthopedic Family Medicine
Mount Pleasant | Phone: 262-687-7606
Racine | Phone: 262-687-5800