Posted on
September 14th, 2015
9/14/15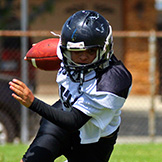 With school sports well underway, there's no better time to learn about concussions to help keep your kids safe. Join experts from the Concussion Care Network at Franklin Family Health Night on Thursday, Sept. 17 to learn about the signs and symptoms of concussion, baseline and ImPACT testing, and more.
At the event you'll have the opportunity to visit with Dr. Erin O'Tool, a family medicine physician with the Network, to learn about concussion prevention and treatment.
"Franklin Family Health Night is an excellent community event that gives physicians and families the opportunity to interact and learn about the best ways to practice healthy habits," explains Dr. O'Tool.
The event is FREE to the public and will take place from 5:30 – 8 pm at the Ascension SE Wisconsin Hospital – Franklin and Midwest Orthopedic Specialty Hospital campus. In addition to learning about concussions, the event provides more activities for kids and adults, including:
Local fire truck display
Firehouse chili cook-off
Flight for Life landing
Rescue demonstrations
Teddy bear clinic (bring your own bear)
Educational displays
Root beer floats
For additional event information or to RSVP, view the event on Facebook.
For More Information