Posted on
September 19th, 2016
9/19/16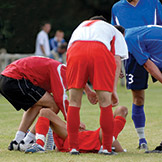 After someone has suffered a concussion, how do you know when he or she is ready to get back into the game? The Concussion Care Network utilizes the ImPACT (Immediate Post-Concussion Assessment and Cognitive Testing) software as one assessment tool to help healthcare providers determine an athlete's ability to return to play after suffering a concussion.
ImPACT is a widely used testing program that's become a standard tool across high school, collegiate, and professional sports. It measures many aspects of cognitive functioning in athletes, including:
Attention span
Working memory
Sustained and selective attention time
Response variability
Non-verbal problem solving
Reaction time
After a concussion, the ImPACT test measures a player's symptoms, verbal and visual memory, and processing and reaction speed. Information from testing can help providers appropriately determine when players can be returned to school and sport.
"Concussion education is especially important because Wisconsin State law requires any child in an organized athletic program suspected of a concussion to be removed from play even if they say they feel OK to continue playing," says Erin O'Tool, MD, who oversees the Concussion Care Network. "To return-to-play, the child must be evaluated and cleared by a health care professional. We provide baseline testing, concussion evaluation and management, and guidance for patients and their head injuries."
If you're concerned that your child has sustained a concussion, seek care by visiting an Emergency Department near you or scheduling an appointment with the Concussion Care Network.