Posted on
June 22nd, 2023
6/22/23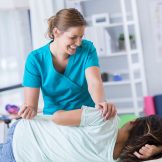 Whether you're recovering from a spine or back injury or a spinal procedure, physical therapy is an essential component of recovery. Physical therapy for spine and back care can help you avoid further damage, speed up the healing process, and keep you on the right track.
If you're preparing for or recovering from a spinal procedure, prioritizing PT is crucial for your success! Here's what you need to know from our MOSH PT experts.
At MOSH, There's a Team on Your Side
The MOSH spine program uses a multidisciplinary team approach—pairing the right treatment with the right condition. That means that you may work with several MOSH specialists before and during your procedure and recovery.
While we have excellent surgeons and procedures for spine injuries and conditions, we also understand the importance of exploring and exhausting conservative treatment options before opting for surgical intervention. Therefore, patients often meet and work with MOSH Physical Therapy as part of their treatment and care team.
How PT is Used in Spine and Back Treatment
If physical therapy has been recommended by your physician or treatment care team, you may wonder what the process entails. For those who aren't familiar with the process, it can seem a little daunting, but most people find that they really enjoy PT and appreciate the guidance in their injury treatment and recovery.
For spine and back issues, therapy is generally used in three ways:
Prevention
Treatment of an injury
Post-procedure recovery
If you've sustained a back or spinal injury, a physical therapist can use various modalities like electoral stimulation and ultrasound to decrease any acute pain. These treatment methods often effectively reduce pain, but our model demands that we go further to find the source of your discomfort and educate you about ways to manage your condition independently.
We always begin the physical therapy process with a thorough assessment of your current condition, history, lifestyle, activities, and recovery goals. This assessment helps us guide you through your recovery with steps to help you eventually resume as much of your activity and lifestyle as possible.
After the evaluation, physical therapy treatment begins. What should you expect during spine and back physical therapy? It's very similar to most physical therapy sessions. Treatment often means hands-on manual therapy to mobilize a restricted joint or tissue or release an area of excessive tension.
After manually working on the area of concern, your physical therapist will often progress to teaching you supportive activities and physical therapy exercises you can perform on your own. These activities typically include stretching and strengthening exercises and movements.
Finally, physical therapy focuses on returning you to your normal activities. We want to help you achieve your mobility goals with reduced pain and increased flexibility and strength. These goals often help patients get back to doing the activities they previously enjoyed without risking reinjury in the future.
Assessing Your Spine and Back Health: When You Need Surgery
Ideally, your physical therapist can assess your posture, flexibility, and strength before or during the early signs of discomfort or declining function. By catching issues early, you decrease the chances of greater injury and the need for more extensive treatments.
When you meet with your physical therapist, they will work with you to develop a personalized plan for going forward. The plan will often help you address any support deficits—areas of your current activities or lifestyle that could increase the damage or risk to your spine or back. By pinpointing these areas of concern, they may prevent you from needing active treatment for an injury.
Of course, there are times when a spine or back injury has progressed to the point where surgery is required. However, if you do require the skills of a MOSH spinal surgeon, you can rest assured that you're in great hands. Your physical therapist will work closely with both you and your surgeon to assist with a recovery plan post-surgery.
As with preventative physical therapy, your physical therapist will help you learn the activities, movements, and exercises you need to perforam to build up your strength. They will teach you how to protect the affected surgical area while helping you return gradually and safely to the full activities you wish to enjoy.
When physical therapists and surgeons work together with patients, they can expect optimal recovery. MOSH Physical Therapy specializes in orthopedics. We work closely with the entire Midwest Orthopedic Specialty Hospital Team. Remember #MOSHPT for your spine and back physical therapy and rehabilitation needs!