Posted on
August 24th, 2015
8/24/15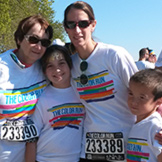 "I'm not going to sit still. I just don't know how to sit." So says Mary K., whose go-get-'em attitude has propelled her through several 5K walks, zip lining in Costa Rica and Maui, and tandem skydiving in Sturtevant.
That "can do" attitude also led her to Midwest Orthopedic Specialty Services due to knee issues that were cramping her adventures. This Union Grove retired nurse, married and mother of three, and grandmother of four, has always led an active life, and she wasn't going to let her right knee get in the way.
"I had a knee replacement in 2012 but I kept saying it doesn't feel right," Mary recalls. "I kept having pain but no one was paying attention to what I was saying."
Goran Jankovic, DO, a family medicine trained physician who practices musculoskeletal and sports medicine with Midwest Orthopedic Specialty Services – All Saints in Racine, recommended Mary see Christopher Evanich, MD, an orthopedic surgeon who specializes in total joint replacements. Dr. Evanich noted her kneecap was out of alignment but also thought that the surrounding genicular nerves were the source of her pain. On a pain scale of one to 10, Mary's discomfort fluctuated from three to seven.
"10 percent of people who have knee replacements can have knee pain – an ancillary condition that can happen," Mary says. "I happened to be one of those people."
Mary met with Jamie Edwards, MD, who performed a radiofrequency ablation at Midwest Orthopedic Specialty Hospital in Franklin. The projected recovery time for her November 2014 procedure was four weeks. The difference was amazing: Mary had relief within a few days.
"Something that only took 20 minutes to do took away the pain," says Mary. "On the fourth day, felt great. I'm forever grateful to Dr. Edwards. I can't say enough about him. I just love him!"
Even with the absence of pain, Mary's failed knee replacement needed additional attention. She could still walk and move her knee, but it would catch. Mary often had to "manually release" it. It was time to start over and have another total knee replacement.
Mary made sure to get in one more 5K walk before the procedure "My daughter, grandchildren and I did the Color Run in Racine 10 days before my replacement," Mary says.
Dr. Evanich performed her recent "revisioning" surgery at Midwest Spine and Orthopedic Hospital in Wauwatosa. The procedure also included realignment of ligaments, tendons and muscles.
While her skydiving and zip lining days are now behind her, Mary plans to resume her daily walking and event regimen. In fact, Mary and her daughter will be participating in Chicago's Hot Chocolate 5K in November.
"You just have to do what makes you happy," says Mary. "I have a blast."