Posted on
May 2nd, 2016
5/2/16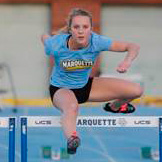 Madison Ricciardi's 2015 outdoor track season began full of energy and great promise. This Waukesha North High School senior was a hurdling standout with the school record in 100-meter hurdles (14.67 seconds) and 300-meter hurdles (45.31 seconds). She also broke the Classic 8 Conference indoor records in the 55-meter hurdles (8.55 seconds) and 200-meter hurdles (28.96 seconds).
Madison was looking forward to attending Marquette University the following year to double major in criminal law and psychology and compete on their track team.
As the spring season began, however, Madison faced a barrier that she couldn't clear on her own. She suffered a foot injury and needed to find the right diagnosis and treatment for her malady.
"I never had an issue before, but I began having pains in my foot through my toe and into my arch the week or two before the second meet," recalls Madison. "I thought it was muscle issues. I'd get it taped but then it progressively got worse."
Madison had an X-ray, saw a doctor, and was cleared to keep running. At the second outdoor meet, her injury reached critical mass.
"During the 100 meter hurdles, I felt a pop in my foot, but adrenaline took me through the end of the race," she says. "I took off my shoe and knew something was wrong. I sat on the sidelines for a while and when I tried to get back up, I couldn't walk on my foot."
On Monday, Madison's father talked to the head coach for recommendations on a foot and ankle specialist. The coach previously had ACL surgery performed by Midwest Orthopedic Specialty Hospital Foot and Ankle Surgeon Daniel Guehlstorf, MD, and recommended that Madison see him. Dr. Guehlstorf was able to see Madison on Friday of that same week.
After reviewing the X-ray and examining Madison, Dr. Guehlstorf determined that the navicular bone in her right foot had suffered a stress fracture. She would need surgery.
"When I saw Maddy's X-ray, I knew what I had to tell her would be devastating. This injury will not heal by itself, and even with surgery, it is a slow healing process. That meant her track season and quest for a state championship were done," says Dr. Guehlstorf. "Fortunately, Maddy is a very positive person, and the conversation quickly changed from 'what I can't do this year' to 'what do we need to do to fix this and get back on the track next season?"
"Not being able to finish my senior year was very upsetting to me because between junior and senior year, I started lifting for the first time. It made me faster and more powerful," she recalls. "I ran one outdoor meet and dropped one second from my personal best in the 100 hurdles and a half second in the 300 hurdles."
Day surgery was scheduled at the Midwest Orthopedic Specialty Hospital in Franklin for the following Wednesday.
"The surgery was only an hour long, and I left by the afternoon," says Madison. "It was really cool what he did. He took bones from my ankle and put them in the break of the navicular bone. He also put two pins in my foot that will stay there forever."
She was pleased with the care she received, even though having an injury and surgery wasn't among her plans for her last year in high school.
"I definitely had a great experience with everything," Madison says. "I was always able to call or email Dr. Guehlstorf with questions. He was very responsive. The nurses and everyone at the hospital were also very nice to me."
Recovery from the early May procedure included a cast and crutches for six weeks, followed by a walking boot for another six weeks. Physical therapy began mid-July, and Madison started jogging at the end of August.
Share Your Story
Have a story about your experience with Midwest Orthopedic Specialty Hospital or Midwest Orthopedic Specialty Services? You can share it using our Contact Us form.