Posted on
May 22nd, 2020
5/22/20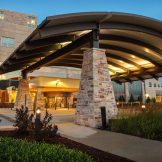 Every MOSH team member is required to make a pledge when they join our organization. That promise—to always put patients at the center of our work—impacts everything we do at MOSH. Now, as we navigate the Covid-19 global crisis, this pledge is more important than ever. Safety is obviously paramount. We also have many patients who need elective surgeries to relieve pain, restore mobility, and improve their quality of life. This is why we've been working hard to reopen MOSH safely for elective cases. Thanks to telemedicine, we have been seeing many patients virtually for several weeks. And now, we are happy to report we are reopening our facility through a carefully phased approach.
Effective immediately, we are scheduling appointments for a limited number of elective cases. MOSH continues to strictly adhere to the safety protocols outlined by Ascension, which include:
Screening
Rigorous cleaning and disinfecting
Staggered appointment scheduling
Waiting room distancing
Continuation of telemedicine services
At this time, restricted visitor rules remain in effect so that we can best try to prevent the spread of the virus.
As we reopen, we want all of our patients to feel safe and comfortable. If you have questions or concerns prior to your appointment, please don't hesitate to contact us. As our services and offerings continue to grow, we will keep you informed either through direct outreach or here on the MOSH website and Facebook page.
If you are sick or experiencing any symptoms of Coronavirus, please reschedule your appointment and contact your general practitioner immediately.
Thank you for your ongoing support through this difficult time. We are passionate about caring for our patients. We miss you and we want you to be healthy and well above all else. Please let us know how we can help you.