Posted on
October 3rd, 2022
10/3/22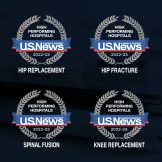 Our consistent and unparalleled dedication to orthopedic care for our patients has set us apart time and time again. The Midwest Orthopedic Specialty Hospital (MOSH) was recently honored to be recognized by U.S. News and World Report.
The U.S. News and World Report is a renowned global leader and resource for quality ranking in many different consumer and patient areas. The Report is accessed by over 40 million people each month. In addition, the Report's Best Hospital rankings are a go-to guide for patients when they select medical professionals throughout the country.
MOSH Areas of Success
MOSH was included in the Wisconsin listings in the most recent U.S. News and World Report Best Hospital Rankings. This year's report included additional ratings for specific procedures and conditions with the hope that it would help patients make choices for the specialty care they require.
MOSH received a High-Performing rating in the following categories:
Hip Fracture
Back Surgery
Hip Replacement
Knee Replacement
We also received excellent marks for nurse staffing, thanks to our high level of nurse-to-patient ratios. Our patient services were rated as excellent as well. We received a 5 out of 5 score on our discharge rating—meaning patients are often discharged directly to their homes rather than to another facility.
"U.S. News and World Report is a highly respected, go-to resource for many people in Wisconsin and throughout the United States. They have an extremely thorough and rigorous rating process, and we're honored to be included in their Wisconsin listings. Our patient-first approach and dedication to positive patient outcomes and client satisfaction has been integral to our success and will continue to be our focus moving forward." – Sheila Gansemer, DNP, MHA, RN – President and Chief Executive Officer.
Excellence in Patient Experience
One of the areas that we're proudest of is our 5 out of 5-star ranking for patient experience. Although The U.S. News and World Report doesn't include the patient experience scores when determining hospital ranking, they still include the scores within the listing.
Patient experience is a high priority for us at MOSH. Our patients rated us highly in many different areas, including:
The willingness of patients to recommend this hospital to others.
Satisfaction with nurses' communication.
Efforts to prevent medication harm and explanation of side effects.
Quality of charge information.
Staff responsiveness to patient requests.
Cleanliness of the hospital rooms and facility.
MOSH goes above and beyond to offer excellent patient care. Our patients' satisfaction, safety, and positive outcomes are critical to our mission.
We're pleased to be included in the U.S. News and World Report Best Hospitals listings for Wisconsin. We continue to strive for high performance in patient care as a leader in orthopedic services for our Wisconsin community.