Posted on
February 20th, 2018
2/20/18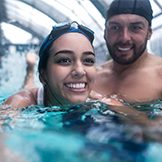 On the heels of Valentine's Day is another occasion that warms our hearts at MOSH. Did you know that February is International Recreational Therapy Month? If you've never heard of recreational therapy, you're not alone. According to the National Council for Therapeutic Recreation Certification, recreational therapy is:
"Also known as therapeutic recreation, a systematic process that utilizes recreation and other activity-based interventions to address the assessed needs of individuals with illnesses and/or disabling conditions, as a means to psychological and physical health, recovery and well-being."
In other words, recreational therapy quite literally uses activity—and fun—to advance the process of rehabilitation. Recreational therapy can be conducted one-on-one between patient and caregiver, or by way of group sessions.
Transformative Experiences
Randy*, a father, and husband from the Milwaukee area has benefitted from recreational therapy programs for years. Randy is 42 years old and loves the outdoors, especially winter activities. He even lived and worked in the Colorado Rocky Mountains for eight years. Randy's life is different, now. He was diagnosed with secondary progressive Multiple Sclerosis (MS) nearly 20 years ago.
But MS didn't stop Randy from trading in his wheelchair for a set of adaptive downhill skis recently. Randy signed up for an adaptive downhill skiing program as a form of recreational therapy. He traveled from Milwaukee to hit the slopes in Telluride, Colo. Beyond the fun inherent with downhill skiing, Randy pushed himself to work through balance, mobility and strength challenges.
"I can't begin to tell you what a rush it was to be on the mountain again. It was exhilarating. And helped me progress in my regular therapy protocols," said Randy.
Randy has also benefited from water skiing on Lake Beulah in Mukwonago and other recreational opportunities.
"It's awesome to see him doing what he loves again. The activities aren't easy. Nothing is when you have MS," added his wife Leah. "But the fun of the sport gives Randy a break. And at the same time, recreational therapy makes him stronger."
Play for the Health of It
Recreational therapy programs aren't limited to skiing. They include a wide range of activities to build strength, range of motion, plus confidence while reducing pain. Depending on the patient and their desired outcomes, a recreational therapy program can include:
swimming
softball
climbing
hiking
horseback riding
arts & crafts
dramatic arts
music
dance
… and much more
Recreation with Care
While the designated celebration of recreational therapy in February is largely intended to applaud the work of therapists, it is also a rallying cry for patients who have benefited from the practice. The theme of this year's celebration makes this clear: "My ability is stronger than my disability."
Before engaging in a recreational therapy program, be sure to speak with your physician. DIY programs and advice are plentiful online. Due to the highly personalized nature of rehabilitation, a physician or certified recreational therapist must always be consulted prior to partaking in a new activity or program. Never take up a new sport or activity as a means to self-rehabilitate. Physician oversight and a proper plan are a must. In fact, many activities can cause harm if not managed per your individual needs.
#WEARERECTHERAPY
For more information about Recreational Therapy Month, check out all of the activities planned for this month at the American Therapeutic Recreation Association website. The organization has established #WEARERECTHERAPY so that supporters can easily follow news and events via social media.
Recreational therapy can help almost anyone. Contact a MOSH orthopedic rehabilitation specialist to find out how recreational therapy could benefit you.
*Randy is not a MOSH patient but was willing to share his story to help promote and support recreational therapy.