Posted on
November 21st, 2019
11/21/19
By: Amin Afsari, DO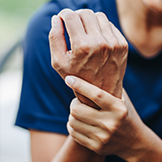 Like you, I've heard a lot of buzz recently about a new carpal tunnel release procedure known as the Guo Technique or thread Carpal Tunnel release. I have fielded questions from patients, insurance companies, physicians, and friends asking my opinion. Before you consider the Guo Technique, you should know all your options for carpal tunnel release, done by a fellowship-trained hand surgeon, prior to making a decision.
The Options: Different Approaches to Carpal Tunnel Surgery
There are two common types of carpal tunnel release surgeries: mini-open release and endoscopic release. A third newer option is the Gou Technique. Of the three, The Guo Technique is the newest and least studied. It was developed in an effort to make a minimally invasive surgery into a micro-invasive surgery.
The Four Things You Need to Know Before Carpal Tunnel Surgery
My advice for anyone considering surgery to relieve Carpal Tunnel symptoms:
Find a fellowship-trained hand surgeon for your Carpal Tunnel Syndrome. At MOSH, our team of fellowship-trained hand surgeons provides you with all of the options appropriate for your wrist and hand. It does take specialty training to identify the associated diagnoses that commonly occur with carpal tunnel. As a hand surgeon, I've seen patients who were unhappy with their treatment because other issues were not recognized. Unfortunately, they needed a hand specialist to address the additional hand, wrist, and/or elbow problems. Some examples include trigger fingers, Dupuytren's, intrinsic tightness, and cubital tunnel syndrome.
Ask your surgeon how long the incision will be. Did you know the current state-of-the-art incision is only 15-20 mm? That is approximately the diameter of a dime. It is ok to ask your surgeon where and how big the incision will be. Most of my patients are under the impression that the incision will be much longer, presumably because they have seen a carpal tunnel incision from many years ago.
There are different ways to administer carpal tunnel surgery, but they all do the same thing. Whether it's a mini-open release, endoscopic release, or the Gou Technique, they all cut the transverse carpal ligament, decompressing the median nerve to relieve symptoms.
Understand the value of visibility. The mini-open approach allows surgeons to see the transverse carpal ligament before cutting it. We rely on this visibility to identify anatomic variations. The Gou Technique relies on ultrasound imaging. We use ultrasound in the office frequently, even to diagnose Carpal Tunnel Syndrome. However, based on the current state of ultrasound image quality, it is debatable whether the ligament can be completely released consistently and safely without the full visibility a mini-open release provides. Even with endoscopic releases, when a camera is passed inside the tunnel, visualization can be difficult and conversion to an open release may be required.
In my professional opinion, as a fellowship-trained hand and upper extremity surgeon, an aggressive marketing campaign is no reason to forego the option that is considered a best practice for Carpal Tunnel release. Like the Guo technique, the mini-open Carpal Tunnel release can be done under local anesthetic, you can drive yourself to the surgery, you may return to work the next day, and you may increase use as tolerated.  I've had patients ask me, "How would you want it done?" I tell them to stick with the tried-and-true solution, mini-open carpal tunnel release. It is the safest, most thorough, and reliable carpal tunnel release surgery available.