Posted on
November 25th, 2019
11/25/19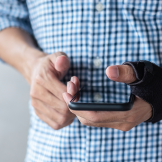 We tend to take our extremities for granted, especially our hands and wrists. From handling tools to typing and texting, we place a lot of stress on them. It can even lead to Carpal Tunnel Syndrome (CTS), a pinched nerve in your wrist that causes weakness, pain, and numbness. And CTS manifests, you need a trained doctor. But where to start? Follow these 4 steps to find a carpal tunnel doctor near you:
Discuss your symptoms with your primary care doctor. If they recommend a specialist, proceed to step 2.
Research and compare board-certified hand surgeons or physicians who have completed a hand fellowship in medical school. Look for high Press Ganey patient satisfaction survey results. Ask friends and family for recommendations.
Meet with physicians in person. Make sure all carpal tunnel treatment options are provided, both surgical and non-surgical. Avoid doctors who "sell" or only recommend a single treatment option.
Ask what you should expect, including outcomes, length of incision (if surgery is required), recovery, therapy, and ongoing hand health maintenance.
Finding Carpal Tunnel Relief
Although there's no way to prevent CTS, you can help minimize the stress on your hands and wrists with these six tips:
Reduce force and relax – Don't use more force than needed to perform manual tasks. For instance, hit keys softly when typing.
Take frequent breaks – Stretch, rotate and bend your hands and wrists during repetitive activities.
Practice yoga – Improve your grip strength and reduce pain by strengthening, stretching and balancing in yoga.
Watch your form – Avoid bending your wrist all the way up or down when performing tasks.
Adjust workstation – Request an ergonomics evaluation of your workspace to help improve your posture, which can affect the nerves in your wrists, fingers and hands.
Keep hands warm – Cold environments can prompt pain and stiffness. If you can't control the temperature at work, put on fingerless gloves to keep your hands and wrists warm.
For more information or to set up a consultation with a MOSH hand & wrist specialist, contact our CTS experts today.