Posted on
October 24th, 2016
10/24/16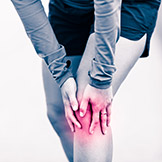 When you're suffering from joint pain, the only thing you can think about is getting back to living your life and being active again.
When cartilage in a joint becomes damaged by disease, injury or just every day wear and tear, the tissues around the joint become inflamed, causing pain and the breakdown of healthy tissue. As this continues over time, joint replacement may be helpful. Replacing a diseased joint with an artificial joint can dramatically relieve pain and return you to enjoying your usual, everyday activities.
The majority of joint replacement procedures are minimally invasive, which means there are smaller incisions, faster recovery times and improved range of motion. New joints can also last longer and be customized to your body size, gender and expected activity level.
Is Joint Replacement Right for You?
You may be a candidate for joint replacement surgery if you suffer from one or more of the symptoms on this list.