Posted on
December 9th, 2021
12/9/21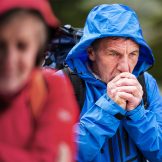 As the weather gets cooler, many people are affected by joint pain in the hands and wrists due to arthritis or injury. Bodily extremities are prone to "shutting down" circulation to maintain core body temperature. This might save your life in extreme situations; however, it just causes pain under most circumstances. Anyone with hand and wrist joint arthritis will tell you the harsh reality of increased body aches in the winter months.
Why Do My Hands Hurt More in Winter?
Cold weather joint pain doesn't always indicate a new or more significant problem. People with arthritis often have chronic pain from inflammation and swelling, and the pain is much worse in cold weather. Scientists think that barometric pressure may be to blame. When the temperature goes down, the barometric pressure drops. As a result, the tissues in your hands and wrists expand, creating internal pressure and pain.
Fortunately, there are ways you can prevent and minimize your joint pain. If your hands and wrists ache during cold weather, here are ten ways to manage and avoid pain.
10 Ways to Manage Cold Weather Joint Pain in Winter
You probably won't be surprised to learn that heat and a healthy lifestyle are critical when you're trying to manage cold weather joint pain in the hands and wrists. A few small changes could make a big difference in your quality of life!
1. Stay Active
As tempting as it is to snuggle up and watch Netflix all winter, movement can significantly ease hand and wrist pain during cold weather.
Staying active with regular stretching and exercise keeps your muscles and joints healthy and your circulation strong. Not moving leads to stiffness and increased pain. General movements, like walking, yoga, or house cleaning, stimulate blood flow and boost circulation throughout your body. To exercise your hands and wrists, stretch and move your fingers and bend and rotate your wrists. Here are nine exercises for your hands and wrists from the Arthritis Foundation you can try.
2. Apply Heat
Heat helps soothe the pain of arthritis in hands and wrists that cold weather brings on. Use a heating pad or heated gloves to keep your hands and wrists nice and toasty. As a preventative measure, keep your hands and wrists warm all the time in cold weather. Invest in clothing with deep pockets and high-quality mittens. Mittens do a better job of trapping heat than gloves.
3. Eat Healthy
Joint health is tied to overall health. Maintaining a healthy diet can help reduce pressure and keep inflammation down in the hands and wrists. Consider adopting a diet rich in foods that mitigate joint pain. As a bonus, the foods that help are heart-healthy and delicious. Check with your doctor before making any diet changes if you have a condition that includes dietary restrictions.
4. Warm Up with Turmeric Tea
Is there anything more comforting than a hot cup of tea on a cold day? Turmeric (or curcumin) is a natural anti-inflammatory used for centuries in Chinese medicine. Flavor your tea with honey, lemon, or your favorite flavors, and wrap your aching hands around a warm, soothing mug.
5. Wear Compression Gloves
Compression gloves apply gentle pressure to achy joints and keep your hands warm. Good quality compression gloves are soft and flexible enough to wear all the time, and fingerless compression gloves are available if you prefer your fingertips uncovered.
6. Hydrate
Even slight dehydration can make you more sensitive to pain. Make sure you drink plenty of water every day, but especially when the temperature starts to drop. Your hands and wrists will thank you.
7. Take Vitamin D
Vitamin D plays a significant role in making you feel good, and that includes managing your joint pain. Unfortunately, vitamin D deficiency is common in the winter months, as people are outside much less and getting less sunshine. A vitamin D supplement might mitigate cold weather hand and wrist joint pain when sun exposure is limited. Check with your doctor before taking any supplements and get advice on how much vitamin D supplement you should take.
8. Wash Dishes
It may sound nutty, but washing dishes in a sink filled with hot, soapy water involves movement and is relaxing and soothing. Use a moisturizing dishwashing liquid to leave your skin silky and soft. Other options include soaking your hands and wrists in a warm Epsom salt solution or taking a hot bath.
9. Use a Topical Pain Relief Cream
A wide variety of over-the-counter and prescription analgesic creams are available to help minimize cold weather joint pain in the hands and wrists.
OTC medicated creams may contain:
Capsaicin
Salicylates (aspirin)
Counterirritants such as camphor and menthol
An anesthetic (typically lidocaine)
CBD
Topical prescription options include NSAID creams or steroid-based ointments.
10. Stay Positive
The winter months are often hard on mental health. Research has shown that people who experience negative moods and depression are more susceptible to pain. Their perception of pain levels is often magnified beyond expected levels. In the winter months, it's important to stay active, healthy, and social—all aspects that help improve mental and physical health.
When to Call Your Orthopedic Specialist for Winter Joint Pain
At MOSH, we believe everybody deserves to live a comfortable life and have the best possible care. When you have hand and wrist pain, the MOSH orthopedic team will help you get back to living your active lifestyle. Call us immediately if you have:
Persistent swelling
Redness
Difficulty putting pressure on or using the joint
Constant or severe pain in the joints
We're here to help make your cold weather hand and wrist joint pain a thing of the past. Contact us today to get started.