Posted on
May 31st, 2019
5/31/19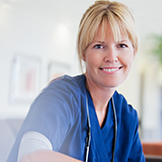 Earlier this month, the nation celebrated the dedication, compassion, and professionalism of all nurses. National Nurses Week was launched in 1993 by the American Nurses Association. Every year, the organization launches a multimedia campaign to elevate the profession of nursing. Nurses Week is a celebration that we at MOSH embrace annually. But it can and should be argued that nurses who practice excellence and positively impact patients and their care should be acknowledged year-round. It is for this reason that MOSH has joined 3,500 global healthcare and nursing education institutions as a DAISY Awards program partner. The DAISY Awards was designed "to honor the super-human work nurses do for patients and families every day."
The DAISY Awards Origin Story
In 1999, cancer survivor Patrick Barnes was diagnosed with a rare and fatal autoimmune disease. After his passing, his grieving family decided to memorialize Patrick by honoring the extraordinary team of nurses who cared for him during his illness. A pilot recognition program—The DAISY Award For Extraordinary Nurses—was presented to Patrick's nursing team. DAISY is an acronym for Diseases Attacking the Immune SYstem.
Since then, the DAISY Award Program has grown to be a widely recognized strategic tool for nurse recruitment and retention. The award recognizes nurses from around the world and with all backgrounds and areas of specialty.
Nominate a MOSH Nurse Today!
As a DAISY Awards program partner, patients and peers are now able to nominate MOSH nurses for this prestigious recognition. The award categories include Team Award, Nurse Leader Award, and the DAISY Lifetime Achievement Award. It is easy to nominate an exceptional nurse. Simply complete this short form and tell your story of how a MOSH nurse positively impacted your patient experience. Nominations are accepted year-round and no deadlines are imposed. Award winners are presented with a certificate and pin and their unit is treated to a party. Give the ultimate thank you to a nurse who went above and beyond to help you, nominate a MOSH nurse for a DAISY Award today.