Posted on
June 24th, 2020
6/24/20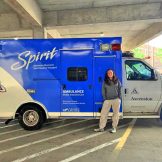 As the Milwaukee Milkmen minor league baseball team announced they will play ball again in July, we're thinking about athletic trainers. After the pause in academic, recreational, and professional sports, you might think the MOSH athletic training staff has had lots of free time to perfect its jigsaw puzzle strategy. The surprising truth is the exact opposite and has little to do with athletic training… but in fact, a puzzle was solved.
Before the pandemic, MOSH's co-founder, Ascension Wisconsin, contracted taxi and rideshare vendors to provide transportation when needed for non-emergent patients who were released from the hospital. This was a simple solution for circumstances when a safe, healthy ride home was in need. However, due to the highly contagious nature of COVID-19, taxi and rideshare providers are unable to transport patients who test positive—or are under investigation—for the virus. This presented a new and unexpected problem to solve for COVID-19 patients. As it turns out, this was a problem the MOSH/Ascension athletic training staff was uniquely equipped to solve.
"I got a call from state system administrators who knew I had staff and scheduling tools at the ready. They asked, 'Hey, can the athletic training staff do this?'," says Mark Alberg, Ascension's athletic training manager. "My immediate response was 'Yes!' It's been rewarding to flex and move into a new role, making a positive impact on healthcare."
The athletic training team already used a 14-passenger van to provide care for sports teams. The athletic trainers retrofitted their van to increase safety by building a barrier between the driver and passengers. Ascension also provided an ambulance, which features built-in separation between occupants. All would-be drivers were required to complete specialized training before participating in the program. And any trainer considered high-risk was exempt and provided with alternate opportunities to support their department safely from home.
Early in the pandemic, Alberg's staff provided transportation services 24/7. "We were working every day of the week. Every hour," he says. As the curve flattened, the demand was less. However, athletic trainers continue to provide patient transport from 6:00 a.m. to midnight daily.
"As soon as I update the schedule, our staff fills the slots," adds Mike Freitag, Lead Athletic Trainer for MOSH. "Our staff has really stepped up."
Neither Alberg nor Freitag ever imagined they would be in the role of overseeing a transportation program, but they agree that creativity and innovative thinking enabled their team to step up in a new way.
"Running this program opened everyone's eyes to seeing what goes into hospital care from a logistics standpoint," commented Freitag. "As athletic trainers, a lot of our staff don't work in a hospital setting. They didn't necessarily know us and we didn't know them. This has opened all of our eyes and fostered a new degree of camaraderie."
The initiative has Alberg and Freitag continually thinking about the power of redeployment during a crisis. It wasn't long after the program launched that they realized they could do even more than driving people home safely. Many COVID-19 patients are also in need of dialysis. According to the National Kidney Foundation, "People with kidney disease and transplant recipients are at higher risk for developing serious complications from COVID-19." This presented another need the athletic training crew could fulfill. So now, in addition to home transports, the team drives many patients to regular dialysis appointments.
Their thinking caps are still on. Even as sports begin to return, Alberg and Freitag hope that their efforts can continue in new ways. "We want to reduce stress to families and patients. In a difficult time, if you can do something to make the situation nicer for someone, that's perfect," Alberg says. "The important thing in healthcare is that we need to think outside the traditional box—that enables us to make a difference. It's nice to work for an organization that supports that mindset."
Athletic trainers are hands-on professionals. They are driven to help patients achieve goals. The new transport program, albeit out of the ordinary, was a natural fit. It simply required creative thinking, leadership that recognized the value of a big idea, and dedicated professionals to bring it to life.
"My appreciation goes to my staff," adds Alberg. "Kudos to the trainers who were willing and able to do this. They have been more than supportive and gracious. Our caring staff embraced the idea, making it almost feel easy. They have made a big impact on the frontlines and I couldn't be more grateful."