Posted on
May 6th, 2022
5/6/22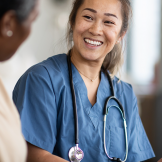 It's National Orthopedic Nurses Week and therefore, the perfect time to shine the spotlight on the caring individuals who have devoted their careers to this noble profession.
Orthopedic nursing is not a career for the faint of heart. It is a job that requires moxie, compassion, and expertise. Why? As an orthopedic nurse, there's a lot more to the job beyond setting broken bones. You're a nurse first, and a teacher, second.
In orthopedics, patient care is often complex. It can be overwhelming for a person to cope with an injury, and at the same time, focus on medical details. For this reason, orthopedic nurses play a crucial role to help patients better understand their conditions, status, and options. The US National Library of Medicine National Institutes of Health reports, "Patient education is critical to ensure that patients receive appropriate information to assist in the pre-admission, peri-operative treatment and rehabilitation process for the patient." In other words, patients heal and recover better when they are clear on their personal care process.
Most orthopedic nurses are good at health care. Exceptional orthopedic nurses are skilled at communication, empathy, and foster health literacy. Nursing 2019, a clinical journal, recently published a spotlight feature on orthopedic nursing. In it, Geri L. Tierney, RN, ONC, BSN, president-elect of the National Association of Orthopaedic Nurses (NAON) explains why patient education is key: "The most common nursing diagnoses we relate to are mobility and pain," explains Tierney. "The patients we see aren't sick so much as 'broken.' We focus on patient education, supporting patients who may have to deal with significant changes in their lifestyle."
As part of the patient education process, orthopedic nurses create a plan of care for each patient. This is a document that summarizes everything from pain management to an explanation about the use of assistive devices if required. So, in addition to verbally coaching patients through treatment and recovery, everything is written down so that it can be referred to later by both the medical team, the patient and their family or friends who will aid recuperation.
Managing expectations for patients is an important facet of health care communications. It's not only easy to get frustrated if your expectations don't match your experience, it's also reasonable. This is especially the case in health care. Orthopedic nurses are not psychics. They cannot tell you with 100 percent certainty that you will recover in a certain timeframe or guarantee the amount of pain you will or won't feel. But they are experts in their field. They can share with you details and information based on years of statistics and cases that are similar to yours. Orthopedic nurses will also play a role in determining if something is outside the norm to a degree where action or a change in care should be considered.
The Best Orthopedic Nursing Team
The MOSH Orthopedic Nursing Team is special. They are savvy orthopedic specialists, effective educators, and compassionate caregivers. The doctors and surgeons at MOSH rely on MOSH orthopedic nurses to do their jobs with excellence. Every October, we celebrate National Orthopedic Nurses Week. The National Association of Orthopedic Nurses is asking its members to share the reason why they are motivated in their profession using #ImAnOrthoNurse on social media. Take a moment to follow that hashtag to see first-hand how orthopedic nurses are making a difference.
And to all of the MOSH orthopedic nurses, thank you. We aim to celebrate your contributions to our hospital year-round, but we hope you feel extra appreciated May 6 – May 12.