Posted on
September 24th, 2018
9/24/18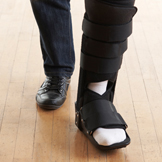 Recently, MOSH was the recipient for a 5 Star Excellence Award for outpatient surgery. While we're proud of this honor, at times the idea of outpatient surgery in orthopedics is met with surprise. Incidents of outpatient orthopedic procedures, also known as ambulatory or day surgery, are actually on the rise. Outpatient surgery is an option for simple procedures like cartilage repair as well as whole joint — including knee and hip — replacement. With advancements in technology, medical techniques, and anesthesia, it is not uncommon for patients who undergo anything from cartilage repair to major joint replacements, to be up and walking within hours. This means that it's possible for more patients to heal at home.
Day Surgery is Not For Everyone
Outpatient surgeries are gaining in popularity because they typically cost the patient less, and under the right circumstances, can yield the same outcomes while achieving better overall patient satisfaction. However, each surgery and patient is different. And each case requires a thorough, personal screening.
Doctors must carefully evaluate cases to make sure that fundamental requirements are met. It is essential that same-day surgery patients are prepared for and equipped to self-manage their healing at home. If you are a potential candidate for outpatient surgery, your doctor will want to ensure that you have the proper transportation, access to prescription medication, a safe home environment, support from friends or family and rehabilitation resources.
When you undergo outpatient surgery, you also bear the responsibility of managing your own expectations and motivation to follow post-surgical instructions and a care regimen. Yes, that means that it's important that you keep a positive attitude and follow doctors' orders.
Technological Advancements
Orthopedic surgery has advanced significantly in the past 30 years. Physicians are in constant learning mode so that they are aware of and ready for what's next and new. Whether directly or indirectly, the technological advancements in the following areas have contributed to the rise in outpatient orthopedic surgery:
Diagnostics
Software
Implants and surgical instruments
Surgical techniques
Imaging technology
Therapies
Thanks to technology, we now have better diagnostic and treatment modalities. As a patient, not only are you up on your feet faster, but your doctor has an ultra clear picture of your pre- and post-surgical state, your overall wellness and your trajectory for recovery. At MOSH, our state-of-the-art operating rooms are equipped with the latest technology. The rise in outpatient surgeries is evident at our hospital as a result.
What to Expect
At MOSH, it is our philosophy to only resort to surgery as the last option. After that determination is made, you will undergo a screening.  If your orthopedic specialist decides outpatient surgery is a good option for you, a date and time will be scheduled. You will also be asked to participate in a pre-operation meeting with your team.
On the day of surgery, if you haven't already, you will meet with your anesthesiologist and have an opportunity to ask additional questions. After the surgery is complete, you will be moved to a recovery room. You will be monitored and tested to make sure you are clear for discharge. Your team will make sure you have transportation and a friend or family member to stay with you for the next 24 hours (sometimes more) at your home. You will also review your pain management regimen.
Following the surgery, the next day, you will receive a communication from your doctor. You will be asked about your current status with specifics related to your procedure. Be detailed and specific with your doctor as you report your condition and progress. Because he or she is not by your side, it's important that details are not lost in communication. Your doctor will likely then discuss your therapy plan and schedule.
The Benefits
A study on outpatient vs. inpatient surgery published in Orthopedic Reviews reports, "The review found patients who underwent outpatient surgery reported significantly less final cost than the inpatient group." Clearly, cost saving is a huge benefit. It's obviously important not to prioritize money over health. The good news is that healing in the comforts of your own home, under the right circumstances with proper supervision from your doctor, can yield favorable results. If you are eligible for or are interested in learning more about MOSH's award-winning outpatient care, make an appointment for a consultation with your doctor.