Posted on
April 13th, 2020
4/13/20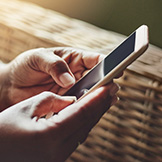 Life and medicine look very different right now. As we work together to flatten the curve, the MOSH team wants you to know we're here for you. We can stop going to the movies, wear masks in public, and connect with co-workers on a screen, but we can't pause our health or prevent orthopedic problems. We are now offering online visits with MOSH physicians through our new telemedicine program.
If you are experiencing a non-emergency orthopedic condition that is disrupting your lifestyle, please complete an online appointment request form or call 414-817-5800 to schedule a telemedicine session.
Our doctors are available to help Monday through Friday, 9:00 a.m.- 3:00 p.m. (CT). You will need a laptop, iPad, or smartphone to participate. It is ideal if you have video capabilities.
When you arrange your appointment our team will walk you through the technical requirements and answer any questions you may have.
We look forward to seeing you, virtually.