Posted on
January 27th, 2020
1/27/20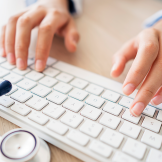 For more than a decade, medical practitioners in England, Wales, and Northern Ireland have been keeping tabs on broken hips. This effort isn't status quo medical record keeping. The National Hip Fracture Database was designed to collect and analyze data for all patients in the United Kingdom who were admitted to the hospital due to a hip fracture. The initiative and its findings benefit patients and the medical community around the globe.
Unlike other commonly broken bones, hip fractures are associated with high rates of death, especially in older patients. Unfortunately, even a seemingly minor fall can result in a hip fracture. In younger patients, hip fractures occur as a result of car accidents, sports injuries, and other trauma. In total, the scorecard for hip fractures is daunting.
The Risks — "Hip fracture is the most common serious injury in older people. It is also the most common reason for older people to need emergency anesthesia and surgery, and the commonest cause of death following an accident. "
The Prevalence —"More than 300,000 adults aged 65 and older are hospitalized each year for hip fractures, and 95 percent of these result from falling. Approximately 30 percent of seniors fall each year and as the aging population grows the number of annual hip fractures is expected to increase, and the costs will become increasingly burdensome."
The Cost —"Falls among adults age 65 and older are very costly. Each year about $50 billion is spent on non-fatal fall injuries and $754 million is spent on fatal falls."
-Centers for Disease Control and Prevention
Hip Fracture and The Data
Fortunately, there does exist some promising news. The National Hip Fracture Database 2019 Annual Report was published in conjunction with the Royal College of Physicians at the end of last month. In it, all indications point to a positive trend regarding mortality. The report summarizes death rates caused by hip fractures in the United Kingdom as, "The (National Hip Fracture Database) annual report 2019 demonstrates that mortality has continued to improve with 564 fewer patients dying in 2018 than 2017."
The data is encouraging, but more progress is needed. Despite the improved mortality rate, as Baby Boomers continue to age, incidences of hip fractures will rise. In addition, after more than a decade of decline in hip fractures for women, the trend is now reversing. Scientists are not sure why, but they are alarmed. Some speculate that a reduction in screening and treatment for osteoporosis is to blame.
This is why the work conducted by researches responsible for the National Hip Fracture Database is so critical. According to the International Journal of Orthopaedic and Trauma Nursing, "It uses prospectively collected information about the 65,000 people who present with hip fracture each year, and links these with information about the quality of care and outcome for each individual."
We Can All Support Prevention
As our population ages, it is more important than ever for people to know how they can prevent hip fractures.
The Centers for Disease Control and Prevention recommends the following five key prevention measures:
Ask your physician to evaluate your risks, including reviewing prescription medications that may cause dizziness or lightheadedness.
Get screened for osteoporosis.
Do daily exercises to improve strength and balance.
Visit your eye doctor every year.
Keep your home free from hazards that may cause tripping and falling.
If you are aging, a caregiver or friend or family of someone with an elevated risk of hip fracture, we encourage you to follow the advice of the CDC and to share the information widely.
For more information about the risks and treatment of hip fracture, contact a MOSH hip expert today.