Posted on
May 28th, 2020
5/28/20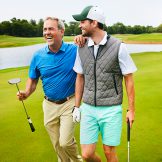 Golf is more than just a game. For many, it's a way of life. Sometimes, as a sport, it gets a bad rap with golfers enjoying the cocktail cart more than the game itself. The optics can be accurate; some people use golf purely for a social activity and there's nothing wrong with that (especially after we've been deprived of social connectedness for several weeks). But for players who live and breathe the game, pros and amateurs alike, golf requires dedication and a high level of athleticism and mental stamina.
When mastered, golf is a manifestation of fluidity and grace. It is a whole-body sport that requires power and precision. The relationship between your body and the game of golf is a symbiotic one: Golf is good for your health and being in good shape is good for your golf game. Of course, if you're golfing during the pandemic, you should take precautions and keep a safe distance from other players and wash your hands frequently.
Integrated Performance Training Program
It's no secret that you can hire a golf pro to improve your game. But did you know another, possibly better option exists? The MOSH Integrated Training Program delivers both performance enhancement and conditioning managed by medical fitness experts. The ITP is hosted in an advanced, leading orthopedic hospital and is designed to lower your handicap on the green while optimizing your overall health and fitness.
The program is customized to your specific needs. Are you a moderate golfer recovering from an injury, looking for a fun, healthy way to regain strength and range of motion? Or are you a golf aficionado looking to play without pain or prevent injury? Whatever your game, your individualized ITP will be tailored to help you achieve your golf goals while training holistically.
What to Expect from Performance Golf Training
At the start of your training, before your program is formulated, your complete health history will be evaluated. Your MOSH team will ask you a number of questions related to your particular challenges, goals, and expectations. You may be asked to demonstrate your golf swing as part of the analysis.
Once it is determined what your area of focus will be, your customized program will be developed. Typically, goals are centered on building flexibility, stability, strength, and power. Or, you might need a program designed for rehabilitation or conditioning. Again, customization is the key to a successful golf fitness program.
How to Get Started
If you want to improve the overall consistency of your golf game, correct bad habits, improve your biomechanics and learn the safest and most effective ways to mitigate golf injuries, performance golf training is for you. We can even answer your questions via telemedicine. To learn more about our specialized sports medicine services or schedule a future performance golf training session, fill out a brief contact form or call 262-687-5800.