Posted on
September 22nd, 2020
9/22/20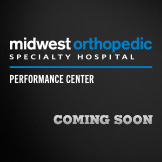 What do a mixed-use entertainment district and orthopedics have in common? The answer is the exciting new Ballpark Commons, currently under construction in Franklin, about 20 minutes from Milwaukee. The new district is the home to a 4,000-seat professional baseball stadium as well as the Milwaukee Milkmen and the University of Wisconsin-Milwaukee Panthers who play there. Baseball is only the beginning. A hotel, Luxe Golf Bays, beer garden, assorted retail outlets, restaurants, multi-family housing, and senior living add to the destination. Delivering safer entertainment at a time when we are all looking for social-distance-friendly options, Ballpark Commons is also the host site for the Milky Way Drive-In Movie Theater, which is open now.
With so many amenities bringing value to the metropolitan Milwaukee community, MOSH saw an opportunity, too. Ballpark Commons is the perfect setting for a health and wellness center featuring a unique neighborhood clinic.
"We are thrilled to announce the MOSH Performance Center is slated to open as a Ballpark Commons anchor tenant in early 2021," says Dr. Eric Pifel, an orthopedic surgeon for MOSH. "Orthopedic care must be considered as part of the bigger health and wellness picture. Our new clinic and wellness center allows us to package the healthcare needs for our community in one, convenient, and beautiful location."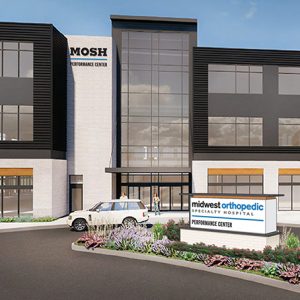 The MOSH Performance Center will offer walk-in orthopedic care, imaging, I.V. hydration therapy, sports training, nutrition counseling, a medical spa, indoor turf training, and much more. The MOSH Performance Center is affiliated with Ascension and is designed to be a center of comprehensive wellness. It will also provide convenient evening and weekend hours.
"Our focus is on supporting an active and healthy community," adds Pifel. "We want to make a visit to our clinic an easy and enjoyable experience. We also hope to shine a light on orthopedics and sports medicine as part of overall wellness."
Construction is well underway for the Ballpark Commons and MOSH Performance Center. A construction camera is live-streaming the progress, which can be viewed online compliments of Bolt, the construction contractor for the project.  ROC Ventures, which manages the Milwaukee Wave, the Milwaukee Milkmen, and the ROC Sports Complex, is the developer of the Ballpark Commons.
"We're expecting 400,000 people to enjoy the Ballpark Commons every year. And the MOSH Performance Center will be at the center of all the activity," says Joe Zimmerman, Vice President of Sales & Partnerships for ROC Ventures. "The MOSH Performance Center will be three stories tall, providing healthcare for the community, two pro teams, over 2500 youth and high school athletes, numerous corporations, and the community. We are thrilled to call MOSH an anchor tenant at the Ballpark Commons."