Posted on
January 25th, 2016
1/25/16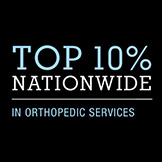 Orthopedic care at Midwest Orthopedic Specialty Hospital (MOSH) is among the top 10% in the nation, according to this year's evaluation from Healthgrades, the leading online resource helping consumers make informed decisions in order to find the right doctor, the right hospital and the right care.
MOSH is the recipient of the Healthgrades Orthopedic Surgery Excellence Award™ and Joint Replacement Excellence Award™ for two consecutive years, 2015 – 2016. The hospital is also recognized by Healthgrades as a five-star recipient for total knee and hip replacement.
A five-star rating indicates that MOSH's clinical outcomes are statistically significantly better than expected when treating the condition or performing the procedure being evaluated.
"These awards are the result of each physician and associate making a personal pledge to excellence and by bringing that commitment back to the hospital every day," said Dr. Dan Guehlstorf, orthopedic surgeon and Chief of Staff at Midwest Orthopedic Specialty Hospital.
These achievements are part of findings released online and in the Healthgrades 2016 Report to the Nation. Every year Healthgrades evaluates hospital performance at nearly 4,500 hospitals nationwide for 33 of the most common inpatient procedures and conditions.
About MOSH
MOSH is the premier destination for orthopedic care in the area. Founded by physician owners and Ascension, we have but one goal in mind: To create the best patient experience possible. Learn more about MOSH.