Posted on
May 21st, 2018
5/21/18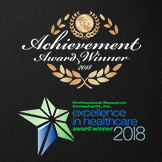 An unyielding dedication to our patients and their well-being has delivered an additional benefit. Midwest Orthopedic Specialty Hospital (MOSH) has been recognized nationally for its excellence! It is with great pride that we announce we have been recognized as a 5-Star Excellence in Healthcare award winner in the following categories:
Outpatient Surgery
Communications with Nurses
Overall Hospital Rating
Responsiveness of Staff
Communications with Doctors
Hospital Environment
This highly competitive, national awards program recognizes organizations that achieve excellence throughout the year by improving patient experiences, healthcare employee engagement and/or physician alignment and engagement. Winners will be celebrated later this month at the 2018 Excellence in Healthcare Conference gala in Charleston, S.C.
"At MOSH, every physician who joins our team must sign a pledge vowing to put patient care above all else," says Dr. Eric Pifel. "By winning the excellence awards, that personal dedication documented on our signed pledges shines brightly. We are honored to be named a 5-Star Excellence winner, but as an organization, every day we aim for the real winners to be our patients."
The Excellence Awards are administered by Professional Research Consultants, Inc. (PRC). Winning designations are determined by the results of comprehensive field surveys. MOSH successfully scored within top 10 percent of the PRC national client database. According to PRC, "Excellence is our focus because we know it drives your scores and makes your hospital a better place to work, a better place to practice medicine, and a better place for your patients to be treated."
We are grateful to PRC, our staff, and above all, the strong, exceptional patients who inspire and guide the MOSH mission daily.