Posted on
July 20th, 2015
7/20/15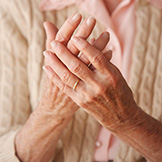 We tend to take our extremities for granted, especially our hands and wrists. From handling tools to typing and texting, we place a lot of stress on them. It can even lead to Carpal Tunnel Syndrome (CTS), a pinched nerve in your wrist that causes weakness, pain and numbness.
Although there's no way to prevent CTS, you can help minimize the stress on your hands and wrists with these six tips:
Reduce Force and Relax – Don't use more force than needed to perform manual tasks. For instance, hit keys softly when typing.
Take Frequent Breaks – Stretch, rotate and bend your hands and wrists during repetitive activities.
Practice Yoga – Improve your grip strength and reduce pain by strengthening, stretching and balancing in yoga.
Watch Form – Avoid bending your wrist all the way up or down when performing tasks.
Adjust Your Workstation – Request an ergonomics evaluation of your work space to help improve your posture, which can affect the nerves in your wrists, fingers and hands.
Keep Hands Warm – Cold environments can prompt pain and stiffness. If you can't control the temperature at work, put on fingerless gloves to keep your hands and wrists warm.
Help for Tired Hands
When you're at the computer or on your phone for a while, take a hand break. Put your hands together in front of your chest in a prayer pose and raise your elbows. Then massage the fleshy part between your thumb and index finger.
More Information
If you have symptoms of CTS, contact a wrist specialist at Midwest Orthopedic Specialty Services today.