Posted on
November 16th, 2015
11/16/15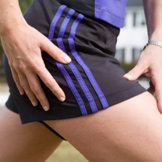 By: Jeffrey E. Larson, MD and James P. Wood, MD
Your hip is stiff and painful, and the doctor says it's worn out. Nonsurgical options have already been explored but are no longer effective. You've decided to have a hip replacement. Now it's time to evaluate your options: conventional hip replacement or state-of-the-art direct anterior hip arthroplasty?
Why Choose a Direct Anterior Hip Replacement?
Less pain and a quicker recovery. The main advantage of going through the front of the hip is related to anatomy. The musculature surrounding the hip and the iliotibial band (which protects and supports the hip) are carefully preserved – never detached or incised.
Patients who have the direct anterior hip approach receive a strong, durable and reliable hip replacement. More important, they experience less pain and improved muscle strength.The results are shortened hospital stays, considerably reduced need for walkers and canes, and diminished need for strong pain medications. Healing occurs more quickly and completely. Patients have virtually no tendency to limp after surgery.
Remarkable precision. A specially designed table – the HANA table – allows for X-ray directed guidance for an exact fit and placement of the hip implant. The minimally invasive surgery includes a modest incision at the upper front portion of the thigh, which heals quickly and allows the patient to be up and walking on the day of surgery and often driving within two weeks.
Available to most hip arthritis patients. Certain patients may not be ideal candidates due to bone deformity, poor bone quality or skin rash over the front of the hip region. In those cases, alternative choices that are best for the patient will be explored.
Anterior approach hip replacement has now become the "procedure of choice" for many surgeons. For more than 50 years, hip replacement has continued to evolve. The direct anterior approach is clearly another step forward in the ever important goal to improve upon the patient experience.
More Information