Posted on
August 15th, 2016
8/15/16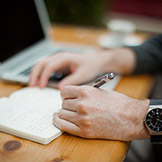 If you're having hip, knee or shoulder replacement surgery with one of our orthopedic specialists, we encourage you to prepare for your surgery and return home through our "Joint Effort" information classes.
Classes are designed to help you feel more prepared and more confident about what to expect during your hospital stay and after you return home. Research shows that patients do better after surgery when they know what to expect. Information will include:
What to expect during your hospital stay
How to prepare your home for your return after surgery
How to manage your care at home
Joint Effort Class Locations & Registration
Classes are held throughout the Greater Milwaukee and Racine areas for your convenience, and you can work with our scheduling team to register.
Midwest Orthopedic Specialty Hospital
Mondays, 4–5:30 pm
Thursdays, 9–10:30 am
Ascension – All Saints
Thursdays, 9–11 am and 3–5 pm
Ascension – St. Francis
Thursdays, 9-11 am
Ascension – Elmbrook Memorial Campus
1st and 3rd Tuesdays of the month, 2-4 pm
2nd and 4th Thursdays of the month, 1-3 pm
Patients are encouraged to attend a class held at the hospital where they are having surgery in order to become familiar with the location.
More Information
If you're experiencing joint pain, schedule an appointment with an award-winning orthopedic physician at Midwest Orthopedic Specialty Services and learn more about conditions and treatments: