Posted on
April 26th, 2021
4/26/21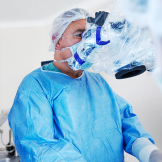 In the 1880s, a German surgeon named Themistocles Gluck invented the practice of joint replacement. According to the National Institutes of Health (NIH), Gluck designed and implanted artificial joints made from ivory to repair wrists, knees, and elbows. Gluck was a genius, and ahead of his time. Since then, joint replacement has come a long way. Ivory has been replaced with titanium and cobalt-chromium-based alloys. Not to mention, arguably, the most powerful tools used today to aid joint replacements are robots. It makes one wonder what Gluck would think.
Surgical teams have been using robots in the operating room since the 1980s. The technology continues to advance, benefiting patients and doctors alike with extreme precision and surgical mastery. Even though the practice has become a gold standard, there are some myths and misconceptions relevant to robotic-assisted joint replacement.
No, There's No Such Thing as a Robot Doctor
The most commonly expressed apprehension voiced by patients considering robotic-assisted joint replacement is a fear of an autonomous operation. Rest assured, in no instance are robots making decisions or controlling the surgery. Surgical robots are instruments. Just like your doctor uses scopes, specula, and cameras, robots in the O.R. are wholly controlled by a highly trained doctor. Without human input and control, the robots are not in service.
Think of it like a remote-controlled toy car. The car moves forward and backward, turns, and can even perform tricks, but only with a human operating a handheld transmitter. If the human puts the transmitter down, the car stops. And the more skilled the human is at operating the transmitter, the better the car can race.
With robotic surgery, the process starts with a CT scan. A three-dimensional (3D) image is then rendered of the anatomy that requires repair. The data from the 3D map is integrated with the robot, giving the surgeon a plan that is unique to each patient. The robot is equipped with a highly exact arm that is designed to utilize surgical tools. The arm is far more precise than the human hand. It can operate with nano-level movements, providing exceptional accuracy for the surgeon.
Robotics Training for Physicians
Surgeons must undergo rigorous training to successfully operate surgical robots. From a training standpoint, robotic surgery is fundamentally a progression from laparoscopy. Although a major surgery, laparoscopy is common, low-risk, and minimally invasive. A small incision is made to insert a specialized scope that transmits images from the human body to video monitors in the operating room. The process and technique are similar to robotic surgery and so are many of the benefits to patients like reduced pain, shorter recovery, and less scarring.
The training process for robotic surgery is more involved than for laparoscopy. A surgeon must be highly skilled with laparoscopy before embarking on training to operate a surgical robot.
The training can be nearly as high-tech as the robot itself. "VR simulation is increasingly used in medical training and is considered a first and essential step in robotic surgical training," reports the NIH. Similar to a pilot using a flight simulator, doctors gain proficiencies with tech simulators to train them how to use the console, maneuvering the robot, and analyze feedback from the robot.
Of course, technology is only one facet of surgery. Physicians must undergo numerous hours of observation in the operating room to learn about the patient experience first-hand. "Like any surgical procedure, development of robotic skills follows a progression of observing, assisting, performing under supervision, and finally independent practice," adds the NIH.
Robotics for Joint Replacement
Generally speaking, robots are utilized by surgeons commonly for myriad types of procedures including heart bypass, hysterectomy, and kidney transplant. In the world of orthopedic medicine, robots are especially effective for total and partial joint replacement. At MOSH, we advocate for surgical options and strategies that benefit our patients with improved safety and outcomes. This is why we have invested in a Mako Robotic System. The many benefits of a surgical robotic tool for joint replacement cannot be denied:
A personalized surgical plan guides your physician team.
The surgeon owns complete control of the robot.
There is a reduced risk of complications.
Patients typically suffer from less pain and the need for opiates is reduced.
Quicker recovery times.
If you want to learn more about robotic-assisted surgery or how the MOSH joint replacement team uses robotic technology, please reach out. We are here to answer your questions, discuss your options, and share our robotic capabilities.