Posted on
January 17th, 2020
1/17/20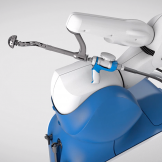 You have just learned you must undergo joint replacement surgery. You are hopeful that you will soon regain the quality of life that you are accustomed to. But between hearing the news that surgery is required, and the actual procedure itself, what do you need to know? If your surgery is for total or partial joint replacement, you should know about the role robots are playing in the operating room. Yes, robots.
According to the U.S. National Library of Medicine, "Orthopedic surgery is ideally suited for the application of robotic systems." However, the use of robots in orthopedic surgery is still relatively new. And many hospitals do not offer the technology due to cost or lack of certified surgeons trained in the use of robotics.
Even as a relatively newer approach, it is a tested and proven technology. The results of robotic surgery can be impressive and are worth exploring to see if it's an option for you.
What Exactly is Robotic-Assisted Joint Replacement?
Although it might be fun to imagine Rosey from the Jetsons cartoon stepping in as your surgeon, that's the stuff of fiction. In the real world, robots are extremely precise, medical workhorses. They typically look like a sleek, oversized suitcase with an arm that extends, holding a surgical tool. Cameras and monitors are key components, acting as the robot's eyes and communication mechanism.
At no point is the robot doing all the work. The word "assisted" is key. Ultimately, the robot is a tool that enables surgeons to perform minimally invasive surgery with enhanced accuracy and control. For example, during the procedure, the extendable arm steadily holds a surgical instrument on a level plane set to exact measurements. The technology will not allow the surgeon to go out of bounds, not even by a tiny degree. As a result, the smallest possible part of the body is impacted by the surgical procedure. Unlike a traditional open surgery where the surgeon needs to cut through and temporarily displace layers of tissue, a robotic-assisted surgery uses small incisions. The doctor is laser-focused on the affected joint with heightened visibility and agility.
After the incisions are made, the robot uses scans to identify and target the arthritic area of the joint that needs to be replaced. The damaged area of the joint is removed and new implants are put into place to restore the joint as healthy and fully functional.
Top 6 Benefits of Robotic-Assisted Joint Replacement
A 2012 comparison study conducted by the Department of Orthopedic Surgery at Samsung Medical Center, Sungkyunkwan University School of Medicine in Seoul, Korea aimed to determine which type of orthopedic surgery is better, open or robotic. In the study, researchers compared the outcomes of 20 knee joint replacement surgeries. Ten of the procedures were performed as traditional open surgeries and the other ten operations were robotic-assisted. In the study, researchers summarized the results as, "It can thus be concluded that robot-assisted total knee arthroplasty is superior to conventional total knee arthroplasty."
Robotic-assisted surgery continues to be studied and analyzed as technologies and techniques continue to advance. Despite the evolving data, across the board, the top six benefits of robotic-assisted joint replacement surgery are:
Less stress on your body
Lower occurrence of infection
Less blood loss
Less pain
Swifter recovery period
Smaller scars
As with any surgery, there is always a risk of infection or complications. Make sure your surgeon is certified in robotic-assisted surgery and discuss the risks and your options in detail.
Is Robotic Surgery Right for You?
Anyone who is a candidate for open surgery is a candidate for robotic-assisted joint replacement. Either way, you will need to be evaluated to see if you qualify for surgery in general. Your age, overall health history, and lifestyle are all factors in determining if you are a candidate.
Typically, most insurance policies cover robotic surgery the same as traditional procedures, but you must check with your carrier to avoid financial surprises.
Who Performs Robotic-Assisted Joint Replacement?
Robots are excellent tools, but a skilled, certified human specialist is required for a successful surgery. MOSH is one of the only orthopedic hospitals in the region that provides Mako® robotic surgery. Our team possesses extensive experience and deep knowledge of orthopedic robotic surgery. Schedule your consultation with one of our seven specialists to learn more.