Posted on
June 22nd, 2015
6/22/15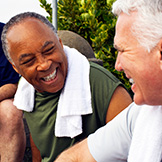 It's Men's Health Month, and we want to make sure you know the risks, symptoms and preventive methods for osteoporosis—affecting nearly two million American men and one of the key reasons people suffer vertebral compression fractures.
Osteoporosis Risk Factors for Men
Although the exact medical cause for osteoporosis is unknown, there are a number of contributing factors for men, including:
Age – Being over age 50.
Body Weight – Having a low body-mass index.
Lifestyle – Physical inactivity, excess caffeine and alcohol use, smoking, and calcium and vitamin D deficiency.
Medications – Taking prescription medication for men's health conditions, such as prostate cancer.
Family History – Having a male family member with osteoporosis.
Osteoporosis Symptoms
Some men with osteoporosis may not develop any symptoms while others may experience bone and muscle pain, particularly in their back. A collapsed vertebra may also cause severe pain, decrease in height or deformity in the spine.
Commonly associated with low-energy injuries and underlying osteoporosis, vertebral compression fractures often require vertebroplasty or kyphoplasty. These minimally invasive surgical procedures use a cement mixture to correct or stabilize the fracture, prevent further collapse, and reduce or eliminate pain.
4 Ways to Improve Bone Health & Prevent Osteoporosis
To prevent osteoporosis, make sure you do the following regularly:
Talk with your doctor about bone density screenings and your diet.
Do weight-bearing exercises four days per week, such as walking, hiking, jogging and dancing.
Do strengthening exercises two or three days per week.
Refrain from smoking and drinking excess alcohol.
If you're at risk for osteoporosis or experiencing symptoms, speak with your primary care physician or make an appointment with one of our spine and neck care specialists.
More Information