Posted on
October 15th, 2015
10/15/15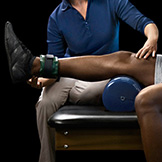 Physical therapy is an essential part of recovery following bone and joint problems, injury or surgery as it focuses on improving quality of life. That's why physical therapists are so important to the rehabilitation team at Midwest Orthopedic Specialty Services. They help ease your pain while assisting in achieving your goals for the best possible outcome.
Physical therapists evaluate and provide treatment or education for the following:
Mobility (movement)
Return to sport or activity
Balance and gait retraining
Muscle retraining
Heat therapy
Cold therapy
Ultrasound or massage therapy
Exercise programs
Cardiovascular strengthening
Activities of daily living
Casting and splinting
Use of wheelchair, walkers, canes and crutches
Use of orthotics and prosthetics
Therapy for Specific Joints & Procedures
With Midwest Orthopedic Specialty Services, you'll receive therapy tailored to your wants and needs. You may benefit from:
October is National Physical Therapy Month
We're proud of the exceptional work our physical therapists do to help improve our patients' quality of life by reducing pain, increasing mobility and range of motion, strengthening muscles to help prevent a recurrence of an injury, or preventing injury altogether.
Learn more about our orthopedic therapy and rehabilitation team.