Posted on
July 25th, 2018
7/25/18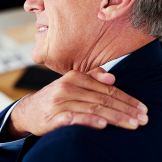 It is no secret that smoking causes cancer and damages the heart and lungs. But outside the medical community, it may be a secret that smoking causes serious harm to the musculoskeletal system.
Earlier this month, Orthopedics Today reported on the connection between age, smoking and hamstring tendon regeneration. The article summarizes recent findings as, "Older age and smoking significantly decreased the likelihood of semitendinosus tendon regeneration." In other words, if you're young and a non-smoker, your chances of recovering from hamstring surgery are much higher than if you're older and a smoker. While there's nothing we can do about aging, there's a lot we can do about smoking.
When researching the impacts of smoking and surgery recovery, The American Journal of Sports Medicine presents myriad medical hypotheses. It's not difficult to spot a common theme. Here are just a few examples of what the medical community is talking about:
"The Effect of Smoking on Ligament and Cartilage Surgery in the Knee"
"The Effect of Smoking on Rotator Cuff and Glenoid Labrum Surgery"
"Tobacco Use Is Associated With Increased Complications After Anterior Cruciate Ligament Reconstruction"
The Consequences
There have been cases of orthodontists and other health care providers who refuse to treat patients who smoke. While this is not the policy at MOSH, it is worth noting that this extreme measure is taken by physicians who are trying to send an extreme message: Smoking negatively affects the musculoskeletal system, which includes your bones and connective tissue like joints and ligaments. Smoking makes the job of an orthopedist difficult and gets in the way of successful, healthy outcomes.
The list of consequences of smoking that impact your musculoskeletal system is long. Here are only five of many documented throughout the National Institutes of Health's (NIH) website:
Several research studies have identified smoking as a risk factor for osteoporosis and bone fracture.
Smoking is associated with persistent shoulder pain and is an important risk factor for the development of rotator cuff tears.
Smoking can worsen rheumatoid arthritis.
Smokers have a higher incidence of unsatisfactory healing after surgery.
Smoking causes vascular damage, or hardening of the arteries, which has been associated with ulcers and even amputations.
According to the NIH, "A large amount of clinical and experimental research shows that cigarette smoking has deleterious effects on the musculoskeletal system, and worsens the prognosis of several orthopedic disorders and surgical procedures."
Are You a Smoker?
If you are a smoker and you're in need of orthopedic care, the best thing to do is be honest. Your doctor isn't a judge. Your doctor wants you to be healthy, happy and active. Your team at MOSH will advise you on smoking cessation options. If you are facing surgery, your team will craft a plan specific to your needs and risk factors during surgery and rehabilitation.
The good news is that you can improve your surgical experience if you quit smoking. Ask your surgeon for resources to help you quit your use of tobacco.
Do You Know a Smoker?
You can help raise awareness about the risks of smoking beyond cancer and lung damage. Share this post with your loved ones. If they are facing orthopedic surgery, encourage them to discuss their tobacco use openly with their caregiver. If you need support or resources, please contact us. Together, we can help get the word out about the harm smoking causes to our musculoskeletal system.