Posted on
August 20th, 2020
8/20/20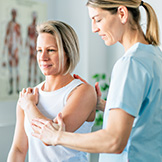 Physical therapy is an essential part of recovery following bone and joint problems, injury, or surgery as it focuses on improving your quality of life. That's why physical therapists (PTs) are so important to the rehabilitation team at MOSH. They help ease your pain while assisting in achieving your goals for the best possible outcome.
There are many reasons why your doctor may recommend PT. Physical therapists evaluate and provide treatment or education for the following:
Mobility
Return to sport or activity
Balance and gait retraining
Muscle retraining
Heat and cold therapy
Ultrasound
Massage therapy
Exercise programs
Cardiovascular strengthening
Activities of daily living
Casting and splinting
Use of wheelchair, walkers, canes, and crutches
Use of orthotics and prosthetics
According to the American Physical Therapy Association, "All 50 states and the District of Columbia allow you to contact a physical therapist without a physician's referral." This mandate makes physical therapy services incredibly accessible, but sometimes patients feel overwhelmed with an abundance of options available.
4 Things to Consider When Choosing a Physical Therapist
Credentials are key. Always make sure you are working with a certified PT. Most PTs graduate with a clinical doctoral degree. Following school, all practicing PTs and physical therapy assistants must pass a national exam to receiving licensure. Periodic continuing education requirements must be satisfied to keep the license valid and legal. It is okay to ask for a PT's credentials, academic background, and experience when you start your search for a provider. All MOSH physical therapists are certified and licensed.
This is a relationship. Personal chemistry with your PT is important, yet an often overlooked, factor when searching for a provider. Your PT should be a partner in your rehabilitation journey. You will likely meet with your PT on a regular basis. They may provide encouragement and motivation. They may also need to help you correct activities that are not productive. So it's important that you find a PT that you trust, with whom you can build a solid rapport. Make sure you feel you are listened to and generally comfortable with your PT.
Know your responsibilities. After your initial evaluation, you PT will present treatment options and a plan. Often, patients are given stretches and exercises to conduct at home. You can expect your homework will be recommended and supported with worksheets or relevant websites. It's important that you feel confident in your ability to manage your treatment plan at home so that you can stick to it. The old expression, "Practice makes perfect," applies here. Patients who maintain their plan at home, often achieve rehabilitation sooner and with fewer setbacks.
Check out the space. Consider the facility where you will go for therapy appointments. You can request a tour. Look for new, modern equipment and a spacious area for physical activity. Natural light, a convenient location, and free parking are added perks.
To learn more about our orthopedic therapy and rehabilitation team and facilities, please contact us. We appreciate the opportunity to be your partner in physical therapy and overall wellness.