Posted on
February 25th, 2015
2/25/15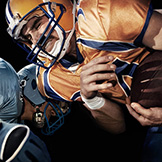 By: Jamie Edwards, MD; Goran Jankovic, DO; Erin O'Tool, MD; & Terry Young, PsyD
A concussion is a traumatic brain injury that is caused by a direct or indirect blow to the head or body. When this happens to student athletes, state law requires any child in an organized athletic program suspected of a concussion to be removed from play. To return to play, the child must be evaluated and cleared by a medical professional.
Ascension has a Concussion Care Network (CCN) in Southeast Wisconsin that works with 23 local high schools, four colleges and The Rock Sports Complex in Franklin. This network is great for assessing and returning athletes safely back to play. We provide baseline testing, concussion screening, follow up care and guidance by medical and clinical professionals.
The network consists of physicians, neuropsychologists, physical therapists, and athletic trainers that are further trained in concussion care and see patients at several different locations. Specialized neuropsychologists and specially trained physical therapists are also available for complex cases. Physicians work with the schools' counselors, principals, and athletic directors on return-to-school programs in addition to return-to-play programs with athlete trainers.
CCN is not limited to working with students. We also diagnose and treat head injuries and concussions in both children and adults.
For more information about CCN or to connect with one of our concussion professionals, please visit Concussion Care Network.