Posted on
April 25th, 2016
4/25/16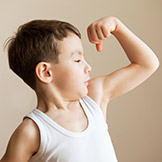 For many young athletes, summer months mean it's the off-season. It may also mean it's time for skill development and fitness training. So, what about strength training?
According to the American College of Sports Medicine (ACSM), strength training can be a safe and effective activity for children and adolescents when a program is properly designed and supervised. Some of the benefits of strength training include:
Increasing muscular strength and endurance
Enhancing motor fitness skills (e.g. sprinting and jumping)
Increasing overall sports performance
Decreasing incidence of sports-related injuries
Developing proper training techniques
Promoting healthy blood pressure and cholesterol levels
Improving confidence and self-esteem
If a child is already participating in organized sports or activities—such as gymnastics or soccer—they may be ready for some form of strength training, including push-ups or sit-ups.
Preventing Youth Strength Training Injury
ACSM recommends that strength training be emphasized as a "specialized form of physical conditioning distinct from the competitive sports of weightlifting and powerlifting, in which individuals attempt to lift maximal amounts of weight in competition."
Without proper supervision, instruction, age-specific guidelines and safe equipment during youth strength training, there is the potential for serious injury.
To help prevent injury, here are a few recommendations for programs:
Physical – A medical examination to ensure proper health and wellness.
Supervision – Instructors understand the uniqueness of children, strength training principles and safety guidelines.
Instruction – Participants are educated on proper techniques and training procedures.
Hazard-Free Environment – A safe exercise environment that is free from hazards.
Rest – Ensure that all children get proper rest, at least one full day between exercising each specific muscle group.
More Information
Interested in learning more about youth strength training? Our Integrated Performance Training (IPT) program offers highly focused fitness and exercise strategies for all ages and levels of play. To schedule your first session, call 262-687-5800.