Posted on
June 26th, 2018
6/26/18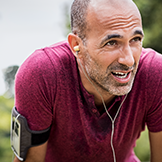 You might think of a sports physical as an annual routine for kids as they prepare to start school or summer camp. Guess what? The myriad reasons educational and recreational institutions require physicals for students and campers are quite similar to the reason why adults should schedule an annual sports physical, too.
Before you start a new sport or activity, it's always a good idea to discuss your plans with your doctor. A valuable, yet often overlooked suggestion is to go one step further and schedule a dedicated sports physical before your first game, match, race or practice. At your first sports physical, you will likely:
Review your overall wellness and previous health challenges
Learn how to avoid injuries
Set performance goals
Discuss the role of nutrition
Identify safe training options
Sports Physicals Are For Adults, Too
Otherwise known as preparticipation evaluations, sports physicals set a baseline for your health and fitness management, which can help a doctor better prepare you for rigorous activity. An orthopedist who specializes in sports medicine should be your go-to provider for your annual sports physical. In sports medicine, physicians diagnose, treat and manage injuries sustained through exercise every day. As a result, they possess precise, expert knowledge pertaining to injury prevention. They are acutely trained to spot the warning signs your body may be signaling—the same signals you may be ignoring.
For athletes, sports physicals can help you compete at a higher level. Goals should be set, guided by your doctor so that you can increase performance while mitigating the risk of injury. Sports physicals are also beneficial for casual fitness fans. Let's say you ride your bike several times a week or you're in a social volleyball club—preparticipation evaluations can yield advice on how you can stay limber, protect your back or hit that power spike with more strength and less risk of shoulder injury.
Show Up Prepared
Regardless of your degree of athleticism, arrive for your appointment prepared. By helping your doctor with clear and concise goals and communication, you'll get the best outcome. If you have sports performance goals, bring them with you, documented on a sheet of paper or on your phone. Identify questions in advance. Should I wear a knee brace? Can I lift more than 40 pounds? How often should I take a break from my sport? Should I increase my calorie consumption? If you're wondering about simply anything, write it down before your appointment.
Your doctor will have access to your medical history, but you should be prepared to review injuries, illnesses, and lingering issues. Also be mindful of any hereditary condition and be prepared to discuss it with your doctor.
Walk-Ins Are Nice, But …
This is the time of year when school lets out and droves of kids are required to take sports physicals before heading off to summer camps. When you Google "sports physicals near me," the results returned are plentiful. It's important to know that an orthopedic or sports medicine specialist will provide you with the most comprehensive evaluation.
As an adult athlete, be it recreational or pro, you need more than a quickie check-up. Your goal isn't to fill out paperwork, you need to make sure nothing will interfere with participating in your desired sport. You also deserve to learn ways to excel at it.
At MOSH, we have more board-certified sports medicine physicians than any other institution in the region. Summer is here. Now is the time to make an appointment for your sports physical.