Posted on
November 17th, 2015
11/17/15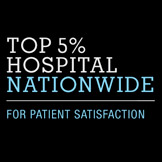 Midwest Orthopedic Specialty Hospital (MOSH) has been named a 2015 Press Ganey Guardian of Excellence Award winner. This is the fourth consecutive year that MOSH has been awarded national recognition for the care we provide.
The Guardian of Excellence Award is a nationally-recognized symbol of achievement in health care. Presented annually, the award honors those facilities that consistently perform in the top 5 percent of those that Press Ganey monitors during the course of a year.
We strive to always deliver the most superior patient experience possible, and we're proud to have our efforts recognized on a national level. The Guardian of Excellence award validates our continued commitment to our patients that they will consistently receive outstanding and compassionate care.
Press Ganey, the industry leader in patient satisfaction measurement, partners with more than 11,000 health care facilities, including more than half of all U.S. hospitals, to measure and improve patient experience.
Learn more about how we put patients at the center of everything we do.