Posted on
January 13th, 2015
1/13/15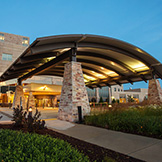 Midwest Orthopedic Specialty Hospital is ranked one of the top 10 hospitals in the nation for patient satisfaction in likelihood to recommend the hospital, according to HCAHPS data compiled by the Centers for Medicare and Medicaid Services.
HCAHPS (Hospital Consumer Assessment of Healthcare Providers and Systems) is a standardized survey instrument and data collection methodology for measuring patients' perspectives on hospital care. While many hospitals collect information on patient satisfaction, HCAHPS provides a national standard for collecting or publicly reporting patients' perspectives of care information that enables valid comparisons to be made across all hospitals.
Public reporting of the survey results is designed to create incentives for hospitals to improve their quality of care, as it is tied to government reimbursement. For the top 10 list, the scores were measured October 2012 through September 2013 – the latest data available.
Recently, Midwest Orthopedic Specialty Hospital was also named a recipient of the 2014 Press Ganey Beacon of Excellence and a two-time Guardian of Excellence Award winner. The Beacon of Excellence Award recognizes leading health care facilities that have achieved and consistently maintained excellence for multiple years, according to patient satisfaction surveys. The Guardian of Excellence Awards recognize top-performing facilities that consistently achieved at or above the 95th percentile of performance. Midwest Orthopedic Specialty Hospital received two of these awards for Patient Experience and Clinical Quality.
"These awards are the result of each physician and associate making a personal pledge to excellence and by bringing that commitment back to the hospital every day," said Dr. Dan Guehlstorf, orthopedic surgeon and Midwest Orthopedic Specialty Hospital Chief of Staff.
Learn more about our outstanding care and services.