Posted on
August 30th, 2023
8/30/23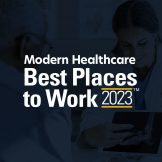 Our dedicated staff is one of the most significant contributors to our success at Midwest Orthopedic Specialty Hospital. Creating a positive, safe, enjoyable work environment is crucial to retaining top-notch healthcare providers, doctors, nurses, and staff.
It's a great honor to be recognized by Modern Healthcare as one of the best places to work in 2023. We know that the listing indicates we are successfully achieving our goals for an excellent workplace that truly places the needs of our patients first.
About Modern Healthcare
Modern Healthcare sets the bar for policy news, industry information, and dissemination of the latest research within the healthcare industry. The publication shares current trends and outlooks that impact the healthcare industry, helping all healthcare providers stay current on the latest information.
In their ranking of the Best Places to Work in Healthcare, Modern Healthcare selects 150 companies and organizations. Organizations must prove that they support and empower their staff to provide the best possible patient care to meet the criteria.
There are benefits to the organizations that make the list because Modern Healthcare is a respected resource in the industry. When an organization is listed as one of the best workplaces, it can boost recruitment and employee retention—helping organizations like MOSH hire and hold onto excellent team members.
We highly value these results because we know that staff satisfaction is invaluable to healthcare performance. As part of the application process, our employees also offered reporting and feedback that we can use to improve our environment even further.
At MOSH, Peer Recognition is Valued
Peer recognition is crucial in our industry, and we know, especially with healthcare staffing shortages, employee satisfaction is paramount. Creating a healthy, welcoming work environment is vital to meeting the needs of our patients.
Many studies have correlated nurses' employment satisfaction with better patient satisfaction and positive patient outcomes. When healthcare workers have an enjoyable work environment, they experience less burnout. It makes them more attentive to patients and less likely to make mistakes due to overwhelming fatigue, and exhaustion.
At MOSH, we ensure that we maintain excellent nurse-to-patient ratios. We know that having the attention of nursing staff makes a significant difference in a patient's recovery. Patients who feel comfortable with their nursing staff are more likely to share their concerns, make requests, and follow their physicians' instructions.
We're pleased that the recognition in Modern Healthcare validates our efforts and helps us to know that we are (and will continue to be) on the right track as one of the Best Places to Work in Healthcare. If you need orthopedic care that sets the standard, please reach out to inquire about any of our services. We're happy to show patients why MOSH is one of the best choices out there.