Posted on
August 30th, 2023
8/30/23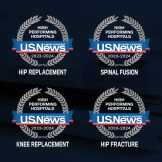 At MOSH, we're never ones to rest on our laurels. We're consistently striving to deliver the best orthopedic care to our patients and improve upon our already highest levels of service. It's an honor to have our world-class orthopedic care recognized by U.S. News and World Report again.
In 2022, MOSH received high-performance ratings and inclusion in the Wisconsin Hospital rankings. In 2023, we've maintained our standard of care, ranking with high performance in several crucial categories.
About the U.S. News and World Report Rankings
In the world of consumer and patient ratings, the U.S. News and World Report sets the bar. The Report is viewed by over 40 million monthly readers, exploring business leaders, colleges and, most importantly, medical service providers.
The Report's Best Hospital Rankings are an excellent resource for patients seeking top-notch care. The transparency of a third-party rating allows consumers and patients to make informed decisions about their healthcare.
High-Performance Ratings for MOSH
In the 2023 U.S. News and World Report Best Hospital Rankings, MOSH received five out of five stars in the following procedures and conditions:
Hip Fracture
Back Surgery
Hip Replacement
Knee Replacement
The criteria factored into the high-performance ratings include prevention of readmission, nurse-to-patient ratios, and the number of board-certified physicians on staff.
At MOSH, we know that having board-certified physicians is critical to excellent patient care. Our physicians and surgeons are both board-certified and fellowship trained and are current on the most recent research and procedures. We also know that having excellent nursing staff-to-patient ratios results in better patient outcomes and better overall patient experience. Fortunately, we pride ourselves on hiring and retaining professional, exceptional staff.
Shining in Patient Experience
Whenever patients are under our care, we make every effort to ensure that we deliver a satisfying, positive patient experience. Most people don't want to undergo a surgical orthopedic procedure, but when surgical intervention is required, our staff helps to cultivate an experience that's as pleasant as possible.
Our goal is always to get you back to optimal mobility and comfort. To that end, we're overjoyed that our patient experience scores in the U.S. News and World Report show that we're meeting that goal.
Patients rated us five out of five stars in many areas, including overall satisfaction with the hospital, willingness to recommend MOSH to others, and satisfaction with patient communication. Patient scores show that our hospital is clean, quiet, and comfortable, with a highly responsive staff.
Although the Report doesn't factor experience scores into the overall hospital ranking, we recognize them as one of the most important metrics. Your recovery not only depends on our providing world-class orthopedic care but also on offering top-notch patient experience. When patients are happy with their visit, whether for an outpatient procedure or several days of care, we know they're more likely to experience longer-term positive outcomes.
We're proud of our inclusion in this year's U.S. News and World Report Best Hospitals listings for Wisconsin. It offers opportunities for us to grow and learn more about our patient's experiences and satisfaction and confirms that we are living up to our high standards of care.
We look forward to continuing to deliver leading orthopedic care for patients throughout Southeastern Wisconsin.