Posted on
January 12th, 2018
1/12/18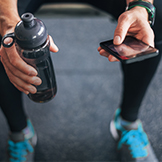 It's that time of year again. Most people gain a few pounds over the holiday season, and droves of people sign up for new gym memberships in January as a result. Gyms are great, especially if you can maintain motivation and build a sustainable routine. But what about other options? Or tools to enhance your gym experience?
Enter the world of fitness technology. There's no shortage of gizmos and gadgets designed to help you get trim, fit and healthy. And research shows they are effective. According to a recent Journal of Medical Internet Research study, fitness app users are more likely to exercise during their leisure time.
Fitness Apps
If you are a member of a fitness center franchise, odds are good your gym has its own app. For example, Planet Fitness, 24-Hour Fitness and Gold's Gym all have apps available in the Apple App Store and on Google Play. Features often include membership maintenance and basic workout guides.
But even if you don't belong to a gym, you don't need to sweat it to sweat. Many apps are designed for both gym-goers and people who'd rather save the membership money by exercising at home. Thousands are available. Without naming names, here are just a few categories of the apps on the market:
Short-duration home workouts (from six to 30 minutes)
Daily activity monitoring
Workouts specifically for women
Strength training
Weight loss
Gym routines
30-day fitness challenges
Training clubs
Calorie counters
Celebrity workouts
Yoga, running and other activity-focused programs
Fitness apps are relatively low-cost. You can download free apps, which may serve you advertisements or prompt you to invest in in-app purchases as a means to make the product profitable. Other apps might charge a one-time or monthly fee. A more expensive download may set you back as much as five dollars a month. Be sure you read all the details before hitting the download button—but even for the more expensive apps, if you find one that makes exercise feel rewarding, it's worth it.
Finding the Right Fitness App For You
Online reviews are incredibly valuable. You can find them in your app download store as well as by simply looking up reviews in a search engine. Yes, sometimes hucksters post fake reviews, so use common sense. If a review sounds too good to be true, it probably is. Look for apps with high numbers of reviews and focus on the average rating. Scan individual reviews and look for patterns in the comments. If you see more than three with similar complaints, you may want to steer clear.
Even better than reviews from strangers are reviews from people you know and trust. Ask around the office or post a request for recommendations on your favorite social media platform. You are bound to get an assortment of both rants and raves. Just be mindful that personal fitness is just that: personal. Daily, intense nine-minute workouts might be perfect for your best friend, but not so great for you. You might need to try a few apps before finding the one that's perfect for you. The key is to find one that you actually enjoy using.
What About Wearables?
It's only the middle of January and there are already published articles about the best fitness wearables of 2018. Smart devices such as watches, rings, and even underwear—yes, underwear—continue to be buzzworthy in the world of fitness gadgets. Wearables place sensors on your body to track heart rate, movement, speed, BMI, muscle mass and weight loss. Most wearables have a companion app that compiles and reports health data.
Wearables are not new, but they are evolving, with prices starting to drop slightly as more hit the market. Google is even working with Levi's to bring tech to traditional fibers. Soon, everyday clothing may store health data, giving us a full analytical fitness picture.
Safety & Security, First
Technology in the world of fitness is exciting and inspiring. Apps and gadgets make it pretty tough to find excuses not to get in our 30 minutes of exercise a day. But with convenience also comes a few words of caution.
Any time you enter personal data into a device or on the internet, your data could be exposed to theft by hackers. And many people are unaware that the Health Information Privacy Protection Act (HIPPA) does not apply to fitness apps. No data is ever 100 percent safeguarded online.
This doesn't mean you need to unplug and fear fitness tech. But you should follow some security best practices, such as:
Never use Facebook or other social media platforms as a shortcut to log in to a health or fitness app. Doing so creates a big vulnerability hackers can take advantage of.
Only download apps with extensive privacy and security policies.
Never enter personal information into a form on a website that doesn't have "https" at the start of the URL (page address—found at the top of your browser window). The s stands for secure, which means the page is encrypted.
Another area of caution is personal safety. An app is certainly cheaper than a gym staffed with personal trainers. However, the adage is true: you get what you pay for. With an app, you have zero support and minimal instruction. Are you doing it right? Are you risking injury? You won't really know. So before you start using your coffee table for elevated push-ups, make sure it's not going to slide out from under you.
You can also go to YouTube and check out testimonial videos to get a sense of what your experience will be like. This provides you an opportunity to make sure that the tools you're using for your workout are safe. If you're using gym routine apps, you can get a demonstration to see how to safely position your body and use gym equipment.
And, as always, your doctor is an excellent resource. If you have questions about exercises or aspects of a workout related to your health or personal limitations, ask the MOSH Athletic Training Services Team.