Posted on
July 21st, 2022
7/21/22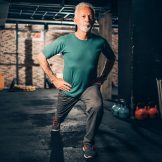 If you have hip or groin pain, there's a chance the cause of the discomfort is a hip labral tear. This damage to your hip joint does not always mean you need hip labral tear surgery. There are non-surgical, effective treatments to manage the symptoms you are experiencing. However, hip labral tears can't be repaired without surgery. Luckily, hip surgeries are common and relatively safe. If you have a hip labral tear, learn more about your treatment options and what to expect if hip labral tear surgery is necessary for your injury.
What is a Hip Labral Tear?
The hip is a ball and socket joint. The top of the thigh bone (femur) acts as the "ball" which rests inside the "socket" of the pelvis (acetabulum). The labrum is a ring of cartilage around the hip joint socket. The labrum keeps the joint together, keeps the femur inside the socket, and provides smooth movement of the joint.
A labral hip tear is any tear or damage to the labrum in the hip joint. These damages can be small, like fraying, or significant, like a full separation.
What Causes a Hip Labral Tear?
There are a number of reasons a labral hip tear occurs, and not all of them will require hip labral tear surgery. The most common conditions that cause labral tears are:
Anatomical Structural Issues
Femoral Acetabular Impingement (FAI): FAIs (also called hip impingements) occur when the femur is not fitting into the hip socket correctly, which causes long-term pain and limited movement. This is the most common cause of hip labral tears.
Hip Dysplasia: When the socket doesn't fully encompass the femoral head, dislocations and hip labral tears can happen.
Regular Wear and Tear
Repetitive motions and overuse: As seen in the workplace, and the most common reason for hip labral tears in athletes and players in high-impact sports.
Age: Anyone at any age can get a tear in the hip labrum, but as we age, our labrum can slowly erode, which may cause tearing and fraying.
Trauma
Impact and other outside forces: Injury from a motor vehicle accident or a fall can damage the hip labrum and surrounding anatomy.
Health Conditions
Osteoarthritis and other degenerative diseases: These conditions can erode the labrum, causing tears and frays.
Obesity: Excessive weight places extra strain on the hip joint, causing long-term wear and tear damage.
Every labral tear can be placed in one of two positional categories, each with its own frequent causes.
Anterior Hip Labral Tears: The usual area for hip labral damage occurs here in the front of the hip joint. The causes of an anterior hip labral tear include repetitive motions at work or playing sports like football and golf.
Posterior Hip Labral Tears: These tears are less likely to occur and are usually the result of high-impact sports, accidents, and falls.
What Are the Symptoms of a Hip Labral Tear?
There are many symptoms associated with hip labrum tears. If you are experiencing any moderate to severe pain, or have any symptoms of concern, see an orthopedic specialist for a consultation. Symptoms of a torn labrum in the hip joint include:
Pain and Stiffness
Hip, thigh, buttocks, or groin pain
Pain increases when bending, rotating, walking, running, or intense activities like playing sports
Pain surfaces at night when sleeping
Pain occurs when sitting for more than 30 minutes
Pain in the hip area when standing
Mobility Problems
Feeling unsteady or unbalanced when standing or walking
The feeling of hip giving way
Limping
Need to use the railing when ascending stairs
Difficulty walking long distances
Limited range of motion in the hip joint
Sounds
Clicking or grinding noises from the hip area
Locking sounds
Cracking noises
There can also be no symptoms of a hip labral tear.
Do You Need Surgery for a Hip Labral Tear?
Do hip labral tears require surgery? The answer depends on the circumstances and severity of the labral tear.
The goal of any hip labrum tear treatment is to improve hip stability and range of motion while decreasing pain and preventing further damage. If a torn labrum isn't a severe injury or isn't causing extreme hip pain or limiting movements, then your doctor may recommend non-surgical treatments first.
When deciding on the most effective treatment for your labrum tear, remember that hip labral tears do not heal on their own, but symptoms can be abated without surgery.
Non-surgical Treatment Options For a Hip Labral Tear
Labrum tears can't reattach to the bone without hip labral tear surgery. However, that doesn't mean you need surgery to mitigate your hip or groin pain and discomfort.
Conservative or non-surgical treatments will manage symptoms, reduce further damage, and allow for a faster recovery time.
Non-surgical treatment options for a mild hip labral tear include:
Rest
Activity modification/elimination of aggravating repetitive motions
Over-the-counter medications (nonsteroidal anti-inflammatory drugs, naproxen sodium, aspirin, acetaminophen)
Injections (steroids, anesthetics)
Physical therapy to strengthen the supporting muscles of the hip joint, increase range of motion and improve hip health
Surgical Treatment Options For a Hip Labral Tear
Your doctor may recommend hip labral tear surgery if conservative treatments fail, if the labrum tear is severe, if you experience limited range of motion and decreased mobility, or if you have a serious hip impingement.
Other reasons you may opt for hip labral tear surgeries:
Your hip joint has other damage like bone spurs or mild arthritis
You have a low risk of surgical complications
You have a good chance of having great post-surgical results
Hip labral tear surgery is contraindicated for reasons such as:
The labrum tear is very severe or impossible to repair and would need a hip labral reconstruction
Advanced arthritis
Age over 40 (older patients are likely to need a full hip replacement in the near future, which would also correct the labral tear)
Physical conditions that create a higher risk for complications during surgery like obesity, smoking, or a current infection
Before considering surgery, be sure to speak with an orthopedic surgeon and weigh the pros and cons of surgery for your situation.
Pros of Surgery
Surgery can relieve hip labral tear pain.
Improved range of motion.
Prevention of further or permanent hip.
Hip labral tear surgery has a high success rate.
Hip labral tear surgery is a relatively safe procedure.
Cons of Surgery
Hip surgeries are complex procedures.
All surgery comes with a risk of complications.
Hip labral tear surgery is not always successful.
Surgery might be cost-prohibitive.
Not everyone is eligible for hip labral tear surgery.
What Happens During Hip Labral Tear Surgery?
There are three main surgical procedures your orthopedic surgeon may perform during hip labral tear surgery. These are:
Debridement: the surgeon will trim and smooth frayed hip labral edges to remove the painful, damaged, and loose soft tissue.
Labral Repair: the surgeon will reattach the torn labrum to the hip socket joint.
General Repairs: the surgeon will repair any other damage they might discover, like bone abnormalities that need shape correction, wear and tear damage, and some labral reconstruction.
Types Of Hip Labral Tear Surgery
To repair a torn hip labrum, surgeons will either perform an open hip surgery or a hip arthroscopic surgery. The type of hip surgery depends on the condition of the patient and the extent of the labral tear damage.
Open Hip Surgery
Open hip labral tear surgery is a common choice for acetabular labral tears. Open hip surgery is an invasive, major surgery. A long incision in the hip area exposes the whole ball and socket joint and soft tissue of the hip. You will be under general anesthesia, and will likely spend 2-5 days in the hospital. During the 2 to 3-hour operation, your surgeon may temporarily dislocate the femoral head from the hip socket. Your surgeon may also perform a debridement, common hip labrum repair, hip labral reconstruction, correct hip impingements (like Femoral Acetabular Impingement), and hip dysplasias.
Pain experienced after hip surgery will be managed in the hospital. Once at home, expect to be on crutches or using a walker for 6 weeks, experience some pain and discomfort for 2 weeks, have your surgery staples removed roughly 2-3 weeks after surgery, and need physical therapy for 3-6 weeks.
Arthroscopic Hip Surgery
Arthroscopic hip labral tear surgery is a popular alternative to open hip surgery. It is commonly used for hip impingements and sports-related labral tear injuries. Studies show arthroscopic surgery has good short-term results and long-term pain relief.
Hip arthroscopy requires a couple of small incisions, about 2 to 4 cm long, in which a small camera and surgical instruments are inserted. Surgeons are able to diagnose, repair, trim and remove damaged soft tissue with minimal exposure of the hip joint.
The benefits of arthroscopic hip surgery for labral tears derive from the minimally invasive procedure: it's an outpatient surgical procedure resulting in minimal pain and shorter recovery time.
In general, expect to be home the same day as your surgery and to be on crutches or using a walker for 1 to 2 weeks post-surgery. The hip labral tear symptoms resolve almost immediately after arthroscopic surgery, but there may be some swelling and pain as the hip heals. There may be a sensation of water in your hip or gurgling noises; these are from fluids used during surgery and will be absorbed quickly. Stitches are removed about 7 to 10 days post-surgery. Physical therapy will be required for about six weeks, and you can expect to be completely free of pain roughly 3-6 months after the end of PT.
For all hip surgeries, recovery times will vary. Your doctor, surgeon, and physical therapist will help determine when you can return to work and sports safely.
Hip pain can be the result of labral tears. If you experience pain or a limited range of motion in the hip area, non-surgical and surgical options provide effective treatments to repair, heal, and alleviate pain. The best solution is to see a doctor right away to prevent further damage to the hip joint. At Midwest Orthopedic Specialty Hospital (MOSH), you have access to the region's most accomplished orthopedic professionals with the latest technology at their disposal. MOSH also offers convenient walk-in appointments for acute hip injuries. Contact us or call 414-817-5800 today to schedule a consultation.
More blogs from MOSH: