Posted on
July 19th, 2017
7/19/17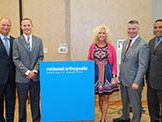 On July 14, nearly 180 sports medicine professionals gathered at the Midwest Orthopedic Specialty Hospital in Franklin for the 2017 Sports Medicine Symposium to learn more about emerging therapies in orthopedic treatments, including platelet-rich plasma, bone marrow aspirate and stem cells.
Physicians interested in sports medicine care, licensed athletic trainers, physical and occupational therapists, nurses and other allied health professionals attended the annual seminar, which featured keynote speaker Kristin Oliver, MD, a non-operative sports medicine specialist and President and Co-Founder of Bluetail Medical Group. For the past 12 years, Dr. Oliver has been practicing in the field of Regenerative Orthopedics and is currently focused on percutaneous use of bio-cellular grafts, including platelet-rich plasma, bone marrow concentrate and lipoaspirate in musculoskeletal injury and disease.
Additional speakers included some of the region's top orthopedic surgeons and sports medicine physicians. Seminar faculty included:
Learn more about the latest treatments in sports medicine from the experts at Midwest Orthopedic Specialty Hospital.