Posted on
March 19th, 2018
3/19/18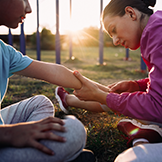 Each March, The National Athletic Trainers Association (NATA) gets to work promoting the efforts and value of its members. National Athletic Training Month was established to champion the important work of athletic trainers. This year's slogan, "Compassionate Care for All" is a mandate all of us at MOSH can easily embrace as it's at the root of our mission. So let's take a closer look at the work athletic trainers do and examine how it may benefit you.
The Role of the Athletic Trainer
A common misconception is that an athletic trainer is the same as a coach or a personal trainer. There can be some crossover between these roles, but by definition, an athletic trainer is a licensed specialist who collaborates with physicians while practicing in the field of sports medicine. The NATA states, "Working to prevent and treat musculoskeletal injuries and other sports-related complications, athletic trainers offer an unparalleled continuum of care." Athletic trainers can be called upon to manage emergency situations, conduct clinical diagnosis or oversee long-term rehabilitation.
In a nutshell, athletic trainers…
Help all patients, not just athletes, even though that is their focus. Patients may be recovering from work injuries, general accidents or people looking to improve physiological abilities like strength training or improved stability.
Hold a bachelor's or master's degree in athletic training from an accredited athletic training program. Subsequently, they must successfully pass the Board of Certification (BOC) exam.
Are recognized by the American Medical Association (AMA), Health Resources Services Administration (HRSA) and the Department of Health and Human Services (HHS) as allied health care professionals.
If you are an athlete or participate regularly in sports, it's wise to a establish a relationship with an athletic trainer even if you haven't suffered an injury. Above and beyond their professional education and certification, athletic trainers have seen their share of incidents, both on and off the field. It's hands-on work; they've iced, taped, stretched and adjusted myriad patients. As an active person who cares about your physical condition and performance, you can benefit greatly from the experience of your athletic trainer.
All Under One Roof
MOSH provides state-of-the-art athletic training services in-house, alongside its team of orthopedic specialists. In one facility, you benefit from a single team that is centered on you. If you haven't already, use National Athletic Training Month as a reason to learn more about MOSH's Athletic Training Services. We're dedicated to compassionate care for all and look forward to learning more about how we can help you achieve peak performance.