Posted on
October 20th, 2020
10/20/20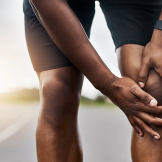 Knees wear out. Some do so faster than others. Knees can fail due to overuse, injury, or age. The American Academy of Orthopedic Surgeons reports that "More than 790,000 knee replacements are performed each year in the United States." As such, knee replacement is one of the most commonly performed orthopedic surgeries. It is also one of the most successful.
If you're suffering from chronic osteoarthritis, a knee injury, or any other persistent condition interfering with your lifestyle, a total or partial knee replacement might be recommended. Surgery can be a positive, long-term solution for chronic knee issues. But not all surgical procedures are created equal.
Arthroscopy, which is minimally invasive, is the most common type of knee surgery. It is typically utilized for soft-tissue conditions like repairing a torn meniscus or treating an inflamed joint lining. If only a portion of your joint is problematic, partial knee replacement is called for. In this case, the arthritic or damaged side of the knee is removed and replaced with an artificial implant. However, if the entire joint is damaged, a total knee replacement will be prescribed, where the entire natural joint is removed and supplemented with an artificial joint made from metal and plastic.
The type of surgery you need depends on the damage to the joint itself. Beyond the prescribed repair, you do have choices when it comes to where and how the surgery will be administered.
Know Your Options: Robotic vs. Open Surgery
"Lately, I'm getting more and more inquiries about robotic assisted-knee replacement from patients," explains Dr. Jesse Bauwens, a hip and knee orthopedic specialist with MOSH. "The more patients learn about the benefits of robotic-assisted procedures, the more demand rises. The benefits are pretty clear."
Dr. Bauwens is referring to leading-edge surgical technology that uses robots to help physicians perform highly precise procedures. Robotic-assisted surgery does not mean automated machines are taking away jobs from human doctors. As covered in our recent blog post, the key word is "assisted." In this instance, when a knee needs to be repaired or replaced, the orthopedic surgeon uses a robot — in this case, a specialized instrument called Mako, to enable a more predictable surgical experience.
The alternative to robotic-assisted knee surgery is a traditional open surgery, where the surgeon makes an incision, prepares the bone, removes damaged surfaces, and installs implants manually.
"With robotic-assisted knee surgery, we are able to be much more accurate than with open surgery," says Bauwens. "As a result, our patients' hospital stays are much shorter and so are their recovery times, which are typically cut in half. We have most patients up and walking with support and monitoring within 24 hours following surgery."
Additionally, patients who undergo robotic-assisted surgery benefit from:
Less pain following surgery
A lessened need for narcotics
Improved range of motion
Less soft tissue injury
Step 1: Ask How to Find Robotic Knee Surgery Near Me
Robotic-assisted knee surgery isn't the answer for everyone, but if you are considering a surgical option, be sure to ask your doctor if you are a candidate. Many hospitals do not offer robotic-assisted surgery as an option because they haven't invested in the technology and/or their physicians are not trained or experienced in the specialty. Do your research and seek second and third opinions after knee surgery is suggested. You want to a provider who has conducted many traditional and robotic knee surgeries. Again, this isn't just about cool technology. All robotic technology requires a skilled surgeon to achieve the best possible outcomes.
Most patients who are candidates for knee surgery are equally good candidates for robotic-assisted surgery. Only a highly specialized, certified specialist will be able to surface concerns or reasons for you to seek alternatives. Your age makes a difference because no joint implant lasts forever. If someone is very young, the doctor may recommend waiting for surgery in general to minimize the total number of surgical procedures required through the patient's lifetime.
Robotic-assisted surgery is typically covered by insurance. Be sure to contact your health insurance provider early in your research process to make sure your knee replacement is covered.
"As a physician, it's rewarding to be able to solve life-altering problems for patients with more precision and efficiency than ever before," adds Bauwens. "At MOSH, we will continue to stay ahead of the curve because technology can be good medicine. It's the right thing to do for our patients, and they always come first."