Posted on
November 14th, 2022
11/14/22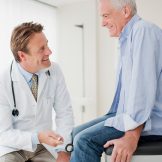 A doctor has just recommended you have knee surgery. This development means you have already tried conservative, non-surgical options to repair knee damage and alleviate pain. You may be meeting an orthopedic surgeon for the first time. You probably have many questions, like "How long is recovery from knee replacement surgery?" and "What do I need to do before surgery?" You want to know what to expect and how long it will take to resume your regular activities. If you're having knee surgery, here's what you can do to prepare for a successful procedure, including planning for your knee surgery recovery time, when to expect to return to work, and methods to help heal faster.
Types of Knee Surgery
When knee pain makes it hard for you to walk, do daily activities, or enjoy sports, it's time to seek treatment and medical advice. Most orthopedic specialists will start with conservative treatments before recommending surgery, like physical therapy or ice and heat therapy. If these non-invasive treatments fail to provide relief, surgical remedies are considered. While there are many medical conditions and injuries that affect the knees, most of the damage can be repaired by having one of the four most common types of knee surgery:
Seeing an Orthopedic Surgeon
If your primary care doctor recommends a surgical procedure on your knee, they will likely refer you to an orthopedic surgeon. Orthopedic surgeons, like those employed at MOSH, are expert doctors specializing in the musculoskeletal system. Your visit with an orthopedic surgeon may include the following:
A patient medical history
A review of medications
A physical exam that includes checking your knee's range of motion, how much pain you are having, and the difference in your daily activity level before and after the pain began.
Imaging of the knee
Routine blood tests
A discussion of surgical options and the recovery process.
Planning for a Successful Knee Surgery
Once your knee surgery is scheduled, you will be given a list of things you need to do to prepare for surgery. The most successful surgeries start with a commitment to complete pre-surgery instructions and the creation of a knee surgery recovery plan.
Your Knee Surgery Plan: Before Surgery
Start your knee surgery plan with information from your orthopedic team. Before your surgery, your doctor will provide you with clear instructions on how to prepare for the procedure. These preparations usually start weeks before the procedure to the day of surgery. They may even include instructions for weeks after surgery. It is very important to follow your doctor's orders and ask questions if necessary.
Typical pre-operative instructions include:
Medication adjustments: your doctor may prescribe pre-surgery medications like antibiotics or blood thinners or require you to stop certain daily medications for a period of time.
Physical therapy: a pre-op PT appointment will allow a physical therapist to get a baseline reading on the function and impairment of the injured knee joint or to give you pre-op, low-impact exercises to strengthen the leg.
Lifestyle changes: doctors commonly recommend cessation of tobacco, caffeine, and alcohol.
Education: you will likely receive written instructions, including 'day of' surgical requirements from your orthopedic surgeon. At MOSH, patients are given a booklet with information on the surgery and a before and after knee surgery care plan. MOSH offers a "Joint Effort" class. These classes provide all the surgical information you will need and allow you to meet your surgical team, ask questions, and see where your surgery will take place.
Find a support person: you will need help before and after the procedure with walking, driving, and daily tasks. A support person (also known as a coach) can help you prepare and keep you safe during recovery.
Prepare your home: your living space needs to be prepped for your post-surgical recovery. You and your support person need to remove loose rugs, clear walkways of clutter and obstructions, add nightlights, and rearrange furniture, so there is enough room for you to move around with your assistive devices. You will want to ensure the items you use the most are nearby. You and your coach will also need to prepare your bathroom and establish procedures for showering and bathroom use. Preparing and freezing meals ahead of time is also recommended.
Knee Surgery Recovery Times
The pre-operative planning process also includes understanding your recovery timeline. Each person's recovery depends on their surgery, the type of damage repaired, and their physical and mental condition at the time of the procedure. However, each surgery does have general guidelines you can use to plan your post-surgical time.
Knee Osteotomy
A knee osteotomy helps with the pain and damage from osteoarthritis. The procedure can help shift weight off the damaged part of the joint by realigning leg and knee bones. A knee osteotomy may delay the need for a total knee replacement.
You can plan on two to four days in the hospital after surgery. You will likely use a continuous passive motion machine under your knee to help keep the joint flexible. You will need crutches and a knee brace to stabilize the joint for several weeks. You will also need physical therapy and joint rehabilitation to regain strength and function. You can expect to return to a sedentary job four to six weeks after surgery and fully recover in three to six months.
Knee Arthroscopy
Arthroscopic knee surgery is minimally invasive, using small incisions and a tiny camera to look inside the body. Arthroscopy is advised for various knee problems, especially for injuries to the anterior cruciate ligament (ACL), posterior cruciate ligament (PCL), medial collateral ligament (MCL), and meniscus.
Knee arthroscopy is usually an outpatient procedure, which means you will be going home the same day. Because this procedure is less invasive, the knee surgery recovery period is much less than other surgeries. You might get a referral to a PT or an exercise program to keep the knee flexible in your discharge instructions. You will likely need crutches for a few weeks to help keep weight off the joint and to assist with walking. A knee brace may be necessary for several weeks.
Most people can return to a desk job a week or two after surgery but will need accommodations to get to work because you likely won't be able to drive or use stairs. In one to two months, you can return to normal activities, and full recovery takes several months to a year, depending on the complexity of the procedure.
Partial or Total Knee Replacement
A partial or total knee replacement is one of the most common knee procedures and has the most extended knee surgery recovery times. Patients with severe arthritis or degenerative joint diseases can benefit from knee replacements.
After a total knee replacement surgery, you will likely spend one to three days in the hospital to recover, begin physical therapy, and use a continuous passive motion machine. A mobility device like a wheelchair or crutches will be needed for one to three weeks, with the ability to walk by yourself in four to eight weeks. If your job is sedentary, you can resume work in four to six weeks and more active employment in three months. You will likely have a full recovery in six months to a year for a total replacement.
A partial knee replacement surgery takes a couple of hours, and you will likely stay in the hospital for one to three days. You can put weight on your knee immediately, and you will probably use a continuous passive motion machine and start physical therapy while in the hospital. You can expect to walk without using an assistive device like a cane or walker in three to four weeks. You should recover almost full function in six to eight weeks.
Your Knee Surgery Plan: After Surgery
Your post-operative instructions will either be given to you as part of your pre-planning or as a part of discharge paperwork. It is very important to follow the instructions to avoid complications and for your knee to heal correctly.
After your procedure, you may need to:
Watch for infection or blood clots.
Ice the area.
Wait to shower for three to seven days if your surgeon did not use waterproof dressings.
Follow the exercise and physical therapy instructions.
Keep your knee straight (don't use a pillow underneath the knee).
Adjust medications.
Avoid high-impact activities, stairs, and driving.
How to Decrease Knee Surgery Recovery Time
While recovery times can vary slightly from person to person, there are additional things you can do to speed up your recovery and keep yourself healthy. Losing weight, eating healthy, and keeping a positive attitude have been shown to help patients recover faster. Some more tips for a quicker recovery include:
Absolutely follow the instructions given to you by your doctor and rehabilitation team. Keep physical therapy and follow-up appointments, and wear the knee brace if given one. Walk when you are allowed and do it frequently to stop the knee and legs from becoming weaker.
Allow yourself time to heal. Rushing back to your normal routine will not make you heal faster. Get the rest you need. This includes getting plenty of restorative sleep.
Recruit more helpers. You already have your support coach, but could you use more help? Ask loved ones to do chores you may not be able to do, like grocery shopping and laundry.
Eat healthy, well-balanced meals. Your body needs the right fuel to heal, and nutrient-dense foods are the best way to get the minerals and vegetables your body needs right now. Focus on foods rich in protein, vitamins D and C, calcium, and iron. Try to avoid foods high in Vitamin K.
Avoid activities and places with a high fall risk, or that involve changing direction rapidly, which would put stress on the knee.
The MOSH Rehabilitation Team
Knee surgeries are major operations, but they are some of the safest and most common surgeries performed today. With careful planning and a commitment to follow instructions, your knee surgery will be a success. You will gain a better quality of life while going back to doing activities you love.
One of the best ways to speed up knee surgery recovery times is to take advantage of the Orthopedic Rehabilitation team at MOSH. Orthopedic rehabilitation helps your knee regain function and strength by reducing pain and increasing mobility and flexibility. Our team consists of musculoskeletal specialists such as physiatrists (rehabilitation physicians), physical therapists, occupational therapists, and nurses. Call us at 1-414-817-5800 to schedule an appointment today.
Want to Learn More?